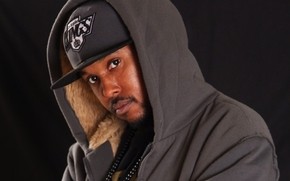 Bad Nuze is a multi-talented, Californian rap/r&b artist who grew up with hip hop in his blood. He is the son of The Godfather's uncle, Uncle June Bug, who is a core member of Snoop Dogg's inner circle. Not one to forget his roots, Bad Nuze cites his biggest inspirations as classic artists like 2Pac, DJ Quik, Snoop Dogg, Melly Mel and Kool Moe Dee. He brings a strong old school influence to his work, mixing it with a fresh rhyming style all his own. Skope is excited to add that Bad Nuze signed a single deal with Makaveli Music Group two days ago.
After spending years perfecting his craft, he has teamed up with Benjamin Music Group to release "Front Page Nuze", a mixtape now available on datpiff.com. His single "Games We Play" has created a buzz, charting independently, and if you're in the Pasadena area you can catch Bad Nuze opening up for acts such as Kurupt (March 30), and Glasses (April 6). Beyond that, he has a full-length CD entitled "Topik Of Diskushun" set for release in June, and if the response to his current tracks are any indication, it's going to cause some waves in the hip hop world.
[youtube Yre_Mvh1aLE nolink]
Welcome to SKOPE Magazine, Bad Nuze. You've grown up in a hip hop family and had the genre inspire you for just about your whole life. It must be surreal to be releasing "Front Page Nuze" and bringing your own rhymes to the world. How does it feel?
Well Skope it feels real good! It's been a long time coming making it a reality.
Besides "Front Page Nuze", your discography lists a few other releases planned for 2012. This is going to be one crazy year for you! What can you share with us about these releases?
I'm releasing Topik Of Diskushun in June and i have a compilation project were dropping later this fall. I'm really excited about it. I think people will like it.
What differentiates you from other rappers on the scene today?
[youtube kfQ7kZHp7m0]
I can't be put in a box or a category. I'm a universal artist. I really enjoyed your flow on "Hollywood", and the chorus hook was great.
What inspired this track?
I appreciate you liking the record. I was inspired by Hollywood and the journey it takes to get there and once you get there the work you have to put in to stay there.
Who are your music heroes?
My music heroes are the ones that paved the way before me like Melly Mel, Kool Moe Dee, N.W.A., Mix Master Spade, etc…
Who in music today do you admire and listen to often?
Well in today's music I listen to a lot of artists, the whole new west movement as an entire entity, and mainly I'm a fan of music that makes you feel good.
How do you go about writing your rhymes? Do you free-style or let consciousness do its thing through the pen?
I sort of do both, but it depends on the emotion that the track gives me.
I noticed you seem to rap about real-life issues and experiences rather than presenting a fake reality. I think hip hop could use more of that.
I try to motto my music in the format of real life, a concept everybody can relate too.
How do you feel about the state of hip hop today?
I feel that the state of hip hop couldn't be more prefect in this day in time especially with the way technology has grown over the years, there's a lot more opportunities and outlets for artists.
What else can we expect from Bad Nuze in 2012? Music videos? Tour dates?
Well for 2012 I'm dropping my next project Topik Of Diskushun in June. Videos are coming real soon – be on the lookout for them, and of course plenty of shows are lined up for 2012. For updates on upcoming events and releases, follow on twitter and facebook.
http://www.facebook.com/officialbadnuze
http://sonicbids.com/badnuze
By James Moore @ james@independentmusicpromotions.com