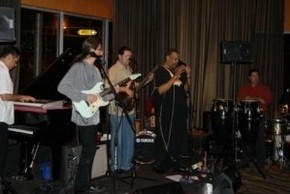 Last December, well known power group, the Sez Who returned to the Albuquerque stage at the Jazzbah, one of three premier jazz clubs in the city. Band leader and Yamaha Drum Artist Ken Lingad gathered band members after a twenty-year hiatus to relaunch this eclectic group. Adding sizzle and zing to his steady beats are Rob "Milo" Jaramillo (bass), Steve Figueroa (keys), Daniel Ward (guitar), and Ric "Mookie" Jaramillo (percussion). They back up area R&B vocal legend Michael Herndon.
Meeting while most of the members were at the University of New Mexico Music Department, they began playing together, appearing in several music venues of that era. "UNM Jazz was sort of like an informal lab where we all woodsheded – playing with each other and everyone else we could. After twenty years of gigs around the world, there is still no other group of cats I would rather play with!" says Lingad.
All of the members went on to pursue successful solo careers, sometimes meeting up with one or two old bandmates to play somewhere together. They recorded albums and played stages with some of the top name act around the world. But they always seemed to come back to New Mexico.
When Milo Jaramillo and Ken Lingad met for lunch a few months ago, they talked of old times and fantasized about getting a power group together. When they looked at who they wanted to play with, it ended up being their original Sez Who. All it took was a single phone call to each member and they band came back to life.
Michael Herndon also eagerly joined them to take his place as lead singer. Born and raised in New York City, Herndon has been an Albuquerque favorite since 1988, adding his vocal chops to a variety of musical styles.
Musicians from all over the region eventually show up to hear all of these cats bring it. The intimate stage at the Jazzbah always has room for someone to share a mic or plug in an instrument. Often saxophone great Lee Taylor lends his soulful sound when he's not on tour. If a fellow musician or singer is in the audience, they are always welcomed to the Jazzbah's stage when Sez Who plays. And on some nights that little stage gets mighty crowded.
The Jazzbah is an intimate dining establishment that opened in Aug 2011 at 119 Gold Avenue SW in the heart of Albuquerque. It offers an eclectic menu that is creative and boasts the best of southwestern cuisine. Coming from behind a bar with inlaid piano keys, their award-winning mixologist Daniel Gonzales offers inventive cocktails that cannot be found anywhere else. The wait staff is friendly and attentive, making your dining or after work drinking experience very pleasant. And, as always, the music is mellow and lively. [Read a detailed restaurant/club review at www.refrainmagazine.com.]
Sez Who plays about every other Thursday night. Come early since the Jazzbah fills quickly.
By: Janie Franz   – janie_58201@yahoo.com