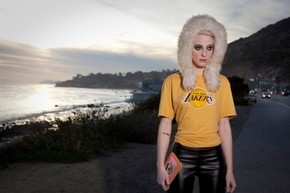 Beth Jeans Houghton & The Hooves Of Destiny are set to release "Atlas" as their next single on Mute on April 24TH 2012.   The new single comes announced with a video for "Atlas" directed and produced by Beth's friend Juan Iglesias in Los Angeles, where the singer has spent much of the year.   The brilliant, black-and-white video stars actress Brenda King (and a rabbit) in a clip that's part stop-motion animation, part film noir and part Benny Hill chase sequence. "It's special to me because of the locations used and the people involved are all friends," says Beth.
[youtube 82t0vx-U9d4]
Described by Houghton as being a song "about change," the hyperactive track tells of two people comparing their globetrotting stories: "Dissecting the atlas for places we've been/Your list is longer but you've got more years on me," it says.