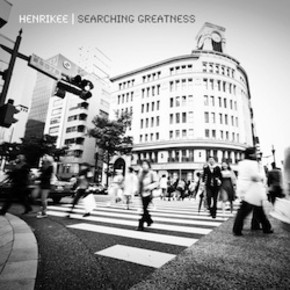 As my loyal readers know I am no fan of American Idol, The Voice, or any show that musicians are judged by singing cover songs. When the networks start playing original music, I will tune in. But before I get to my amazing guest today I want to say that how Jermaine Jones was kicked off Idol for his criminal record was pathetic. If we based many talented musicians on their past records we would not have many left. Anyways, lets get to a musician who represents what I love about original and unique music named Henrikee. Henrikee is of Brazilian descent who does everything from sing, write, and produce. I got hooked on his video "Love Changes Everything" and knew I could not wait for his album, 'Searching Graetness.' Join me today as Henrikee speaks on getting started in music, doing this album in english, working with Felippe Malta, and much more!
Stoli: Where are we talking from today and how has your winter in Brazil been?
Henrikee: I'm in Florianopolis right now. An island in southern Brazil. Actually I missed the last winter. I spent a few months in Los Angeles so I'm in a kind of an endless summer this last year. It wasn't intentional, I actually prefer winter, but it happened for a good reason.
Stoli: How did you get the musical alias of Henrikee or is that your real name?
Henrikee: I always felt my real name didn't bring the energy suitable to my musical lifestyle. As soon as I merged to a life where music was my only profession the name Henrikee came along. It has something to do with numerology also. But the thing I like the most about it is that every way a person may say it, sounds right.
Stoli: You are not only a musician but a producer as well. What came first for you?
Henrikee: First came the drums. Played in some bands with my friends when I was a teenager. Dropped music for a few years to work with advertising and pay the bills. Then I started writing some songs during my sleep, and it all emerged from there. I focused on writing and recording for a while. Since technology was a hobby and it was time to learn new stuff, I decided to go slow and do all the steps from writing to mastering by myself. As a result of that I became a producer.
Stoli: Growing up what would you say had the most influence on you to get so entrenched in music today?
Henrikee: Maybe I used the sticks to express my emotions. I became shy entering the teenager years. I felt really confident playing music. I connected in a way I never did with anything else. And that only reinforced along the years. But the influence came mostly during my twenties. I didn't like the adult life where there was no joy working with something I didn't connect with.
Stoli: You did two albums in Portuguese but this album in English. Why did you make that change and does your style of songwriting differ by what language you use?
Henrikee: Considering my influences it was a surprise to me that I started writing in Portuguese. After 6 years from my first song, out of nowhere I wrote "Endless Bridge" and right after that "Angel". It was 50/50 for a while and now I'm writing more in English. My songs in Portuguese tend to get a more alternative production style, and the ones in English a more straight pop sounding. It's a bit trickier to arrange good melodies with words in Portuguese.
Stoli: When I come to Brazil where can I go to hear live music and see the beautiful women?
Henrikee: I'm not the right person to answer that one. I'm more indoors than outdoors, few friends dinner than big parties. With that in mind, I could try answering by saying there are big festivals every once in a while but maybe you could find more "beautiful" (produced) women at electronic parties. Not to mention Rio's and Sao Paulo's Carnival itself, but it's a different type of live music also.
Stoli: I am loving these songs that I hear from your new album 'Searching Greatness'. How long have you been writing & recording these songs and who have you worked with in-studio?
Henrikee: It took a while longer to complete this album than the previous ones. I was involved in other productions at the same time back then. Started it on 2009 and finished in 2011. I worked alone in Searching Greatness. For the first time I felt enough prepared to go from writing to mastering.
Stoli: You spent three months in LA recently doing music and performing. What have you gained from taking that time from a personal & music perspective?
Henrikee: It was what I needed to decide merging into music as my only profession, focusing in my solo career. To make that decision, the great personal experience me and my wife had being on the road together, away from our home, dedicating our time to music was definitive.
Stoli: I love your song "Angel." What does that song mean to you?
Henrikee: I'm in an eternal battle of breaking the wall that separates what I do awake and what I do while I'm sleeping. Angel is one of the songs I wrote sleeping, and when I listen to these songs it feels like they were wrote by someone else, which lets me really enjoy listening to them without analyzing it. I'm really glad to hear you love it, cause it is a song without a repetitive chorus that I just let myself go while producing it.
Stoli: Who has been an incredible musician that you have helped produce music for?
Henrikee: It was a short period being a producer to other artists. Felippe Malta, who is a long time friend that dedicated his time to music when I went to advertising had a lot of songs in the drawer. I always imagined them produced. From that came the album "Vamos Andar Pela Rua" that I recorded, produced and mixed. There is this guy named James Python that writes some nice songs and hired me to produce them. I recently produced a single to a young singer called Gabriella Leuzzi that is about to be released.
[youtube JRDdTa8NaqM nolink]
Stoli: Where and when can fans get a new copy of 'Searching Greatness' and how do you use social media to get the word out?
Henrikee: It is available on iTunes, Amazon, Spotify and on my web site. I recently started to put some energy on spreading the word but it is still a long way to run. My wife is my personal manager, and she is the one studying and implementing ideas in this area.
Stoli: What other interests & hobbies do you have besides music?
Henrikee: My hobby right now is finding the balance between having, living, working, playing and making decisions. I dropped all the rest to start over and do what I really feel like doing. I feel like a new person since my new artistic name. Some call it a quarter life crisis, I call it a second life opportunity.
Stoli: What is coming up for you and where you @ online?
Henrikee: I performed a lot solo this last year, and I'm missing the band format. Have some songs waiting to be produced and some places I want to visit. A new show format in a near future, and hopefully a much balanced schedule, honoring deadlines and keeping things flowing. I'm at www.henrikee.com.