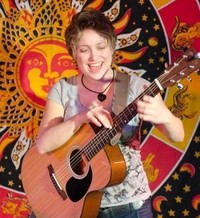 Christie Lenee is an acoustic/folk singer songwriter from Philadelphia who is brimming, in fact, overflowing with a quality rarely seen in its pure, genuine form; deep joy and enthusiasm. Most of the time when we encounter these vibrations it's in their more fake personas, usually as we're being advertised to. While so many artists either opt for mimicking soulless candy-pop acts, or on the flipside, getting completely lost in their "woe is me" personal dramas, Christie Lenee is a refreshing burst of unrestrained love and feeling. Her EP "Give and Take In" proves her to be   worthy of praise.
The title track starts the album with a sweeping groove that reminded me of some of the Dave Matthews Band's excellent work on "Before These Crowded Streets". Funky, up-beat and featuring playfulness amped up by some great saxophone playing, this is a perfect introduction to both Christie and her stellar band. Christie's vocals are absolutely endearing, with an experienced sounding phrasing that could well be compared to one of her main inspirations, the very righteous Ani DiFranco. That's meant as a compliment, not to pit the two fully together, as Lenee without a doubt has her own warm, charismatic tone.
"Before I Go" is a gorgeous track with a boggling amount going on musically as far as atmospheres and guitar lines go. We're invited to experience Christie's conscious, spiritually-inspired lyrics and take in the healing energies if we choose to bask in them. Those without such inclinations will still enjoy this addictive hit.
"Patience" finds Lenee calling on her intuition to guide her through a difficult decision, though she doesn't sound fazed at all by whatever the issue may be. So many styles are merged here it's hard to pick anything out; acoustic, pop, funk, r & b, rock, even Americana, and the result   is a fusion that sounds classic. The conscious message here seems to be to stand in your truth and give yourself space to make your next move. "Love Again" explores some progressive timings and interesting textures, with a similar warm chorus featuring the very quotable lyric "Every day I fall in love again".
"Golden Doors" has impressive guitar playing from the get-go, and personality to spare. Busy, but full of possibility, and every aspect of the music has a purpose. A highlight of the album for its ability to let loose and expand in all directions. "Smile" is a live track, and a great addition to the album, with typically wise lyrics we'd do well to follow.   This track could easily reach a lot of people, with it's very simple music and message reminiscent of "When I'm 64" by Sir Paul McCartney and The Beatles. "Evolution" closes the album with a stunning instrumental piece that is one of the best and most worthwhile I've heard since The Tea Party's early instrumental's on "Splendor Solis" and "Edges of Twilight".
Christie Lenee's gift is to express deeply conscious ideas without forcing any kind of rigid philosophy or preaching to the listener. It's simply a joy to listen to her spirit break free.