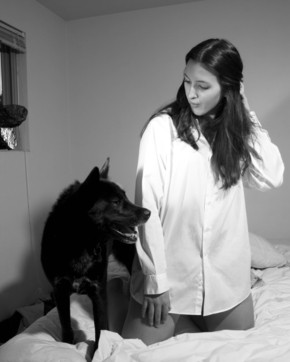 Please allow me to be the first to welcome in the first day of spring today. I am breathing a sigh of relief after this pleasant winter in the US northeast! I am really excited to have my guest on this week for various reasons. The most obvious is she is very talented & beautiful. The next is that her single "Mr Universe" off her EP is a hit and I love her press shot! Jennifer Cadence has got fans & industry folks excited as she racks up radio spins & shows nationwide. Join Jennifer & I as we flirt and discuss how she got started, who is "Mr Universe", writing music in the shower, and much more!
Stoli: Where are we talking from today and how are you enjoying this freakish warm weather in March?
Jennifer Cadence: I'm so jealous of your warm weather right now! I'm in Seattle where in the past 24 hours we've had rain, snow, hail, some thunder and lighting to mix it up and the temperature hasn't been above 35 for weeks. I've made my piece with it though, I'm moving to San Diego in a few weeks so there's lot's of warmth headed my way.
Stoli: At what age did you start to see music as more than a hobby and more like a career?
Jennifer Cadence: As far back as I can remember I've wanted music to my life. It's hard to think of a time when I wasn't in love with this job.
Stoli: How much of a role did your family & friends play into you getting into music?
Jennifer Cadence: That's a really interesting question. My mom sang in the church choir when I was younger and my dad was a professional musician who did a little film scoring on the side. The two of them encouraged me to get involved with music and my dad would pull me up on stage to sing with his band at some of their shows. BUT, When I got older and told them that this was the path I wanted their response was pretty much a big fat "no" It's taken some time but they know how much this means to me. My friends on the other hand are absolutely amazing. My best friend has been one of my biggest supporters from day one.
Stoli: What two musicians did you look up to growing up that inspired you to make music?
Jennifer Cadence: Beethoven and Jimi Hendrix. Hands down the two most passionate musicians to ever live in my book.
Stoli: At 19 you chose music over college. Do you ever regret that decision to pursue music over thousands of dollars in school loans?
Jennifer Cadence: I do believe that there is a tremendous value in education- I actually really enjoy learning. I just really hate being bored and forced to learn something I feel isn't applicable. I think I just had to find something, like business, to keep me entertained long enough to finish a degree program. I'm actually about to graduate and am incredibly proud of myself but it was a weird road to get here. I may be a little older than most graduates, but I have less than ten grand in student loans while most people I know who went to school for art degrees have $100,000 or more in loans to pay off. Not having a big burden like that means I'm less dependent on a day job and I can eat something other than top ramen from now on. It makes the whole starving artist thing a little less painful.
Stoli: I am enjoying your EP 'Mr Universe.' Where did you record that album and how did you choose the four songs?
Jennifer Cadence: Oh thank you so much! I recorded it with an amazing engineer, Thom Collins, at his home studio Precipice Point Productions just outside of Seattle. It was such an amazing and incredibly educational experience. When it came to choosing the songs I wanted the EP we were making to have artistic integrity, a theme (bad luck) and be something that would be marketable- kind of like what Rachael Yamagata did with her EP.
[youtube 57Mp-dcS-2E nolink]
Stoli: What is the meaning behind your single "Mr Universe" and do you think that the perfect love story exists ever?
Jennifer Cadence: Mr. Universe is all about bad luck- something I think a lot of people can relate to. A perfect love story? I guess it depends on how you would define perfect. At the end of the day nobody's truly perfect and I find that the imperfections in someone make them more exciting. Plus you would definitely need to have some form of conflict in a love story to give the audience a reason to want them to work. I don't think I really answered your question, but I don't know if the question really has one direct answer.
Stoli: How much time per week do you work on your music and do you have a job as well?
Jennifer Cadence: I spend more time doing music related things than anything else. It's a least forty hours a week in work. I don't think people realize what you do to get started in this industry, it's a maddening sometimes but well worth it. Like a lot of other artists I do have the day job of waiting tables. It's very glamorous to be an independent artist.
Stoli: What kind of mood do you have to be in to sit and write music?
Jennifer Cadence: I don't really have a set mood that works but I notice that I tend to write the most when I'm bored, annoyed or in the shower. I think my brain works a little better during those times.
Stoli: You look great in your press shot in the white button down in the bed with the dog. How does that photo define you and what is the message?
Jennifer Cadence: Oh thank you! It's easy to look good when your working with such an amazing photographer like Lisa Epperly. It's always difficult to sum yourself up in one photo – let alone a few words- but I think the point I was trying to get across was that I don't take myself too seriously. I really love to laugh and my dog is such a ham for the camera and I'm not a girly girl by any means so something simple and personal seemed like the right decision.
Stoli: Can we expect a music video from you and to what single will you use?
Jennifer Cadence: I would LOVE to do a music video in the near future! It will most likely be Mr. Universe simply because that's the song getting the most attention and I feel like it has some good imagery. I have very few bad ideas on what I'd like to do for it so I'm thinking about maybe opening it up to the fans. It's really anyone's game right now.
Stoli: What is coming up for Jennifer Cadence and where you @ online?
Jennifer Cadence: I'm about to announce some new tour dates for the east coast so everyone should get on the mailing list at jennifercadence.com and I'd really like to do a live, acoustic album along the lines of KT Tunstall's Acoustic Extravaganza in the next few months. At this moment in time though I'm going to take my dog out. She's starting at me and whining excessively right now- such a diva dog.  
www.jennifercadence.com
www.facebook.com/jennifercadence
www.twitter.com/jennifercadence or @jennifercadence whichever you prefer
www.youtube.com/jennifercadence
http://jennifercadence.fanbridge.com/