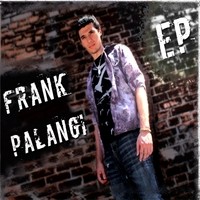 What can I say about Frank Palangi that his debut EP does not say on its own? Frank's appearance is a bit deceiving in comparison to how he sounds. He has a cute baby face and looks like the guy next door. Then you turn on the music and his powerful voice spills out of the speakers and knocks you off your feet.
He is a solo artist from Upstate New York cranking out solid music with depth and feeling. Grinding guitars and belting vocals drive his poignant lyrics straight to your brain. It absorbs into your soul until you feel like a part of the music. The CD is an experience that consumes every muscle.  
This is a hard rock CD that is not like any other rocker I have heard. There are spots that are reminiscent of early Metallica, mainly vocally. But each song is creating a new world of music that is making a nice home in musical history. He has a new single, "I Am Ready" that flirts with your senses, then viciously ignites uncontrollable emotions. Makes me ready for some more!
It has been awhile since the airwaves have heard some real hard rock. Palangi is not messing around. He wants to be taken seriously and is holding nothing back. These are some real head banging tunes with diversity and edgy subtleties. A very cool mix of old school in a new age.
Rebecca Hosking – hoskingrebecca@gmail.com
[Rating: 4.5/5]