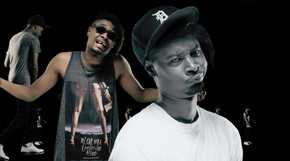 Everywhere you look, it's Danny Brown: staring out from newsstands on the cover of The Fader's spring style special and XXL's Freshman issue, featured onNBC's Late Night With Carson Daly and "certified" by MTV2's Sucker Free, and blasting through SXSW all this week, headlining showcases before embarking on a sold-out spring tour of North America with Childish Gambino.
[youtube QSX4vkHENLk nolink]
The Detroit MC's lauded XXX (named Best Rap Album of 2011 by Spin) hits iTunes today in a deluxe edition featuring a full digital lyric booklet and three brand new, unreleased tracks. Vinyl connoisseurs will be able to pick up XXX a few weeks later on a special Record Store Day 2xLP set on white vinyl with a limited bonus 7″ of "XXXapellas" only included in the RSD pressing, on sale 4/21.
XXX Deluxe Edition on iTunes: http://itunes.apple.com/us/album/xxx-deluxe-version/id508262167