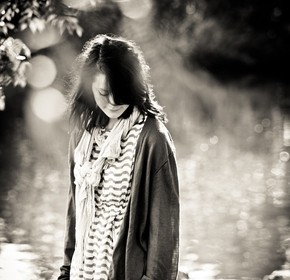 Twenty year old Scottish singer/songwriter Rachel Sermanni considers herself a storyteller, reflecting the ageless styles of her traditional homeland folk sounds while incorporating her own tastes of jazz, folk and indie into each song she sings.   Rachel comes from a small village in the highlands called Carrbridge.
 
Rachel has just self-released her debut "Black Currents" EP, to critical and peer acclaim.   The EP went straight to number one in the Coalition Singles Charts where it stayed for two weeks.   Produced by Ian Grimble (Benjamin Francis Leftwich, Manic Street Preachers), it showcases her unique talent through four beautiful tracks that possess a sweet, crisp richness that stays with you long after you have heard them.
 
"Breathe Easy" is a song with a strong   A Cappella backbone that builds with a vibrant strings and key section,   the dynamic "Black Current" which rises and falls with an intoxicating swoon, and "Song to a Fox" is a wintry hymn with haunting cries.   The lead track "The Fog" has a huge wonderful chorus.
 
Rachel has a sharp, bright wit that makes her immediately popular with her audience which has led to support and interest from some of the world's top artists.   Her music and info is popping up everywhere on the internet.   This is a young lady to keep your ears on.
[youtube Cf5XuyLiw1U nolink]
When did you start singing?
 
I began writing and singing my own songs at 14. It was on leaving school that the extent of my playing increased and I really started exploring the possibilities: career wise and also creatively.
Tell me a little about yourself, where you live and where you perform.
I come from the highlands of Scotland. I played, when still in school, around the local villages of our area- the Cairngorm Valley. There was a good deal of traditional music playing. I enjoyed taking part in any performances; singing and acting and dancing was something I greatly enjoyed and still do.
How would classify your singing style?
I guess I sing folk music of a kind, storytelling through song.
What do you want listeners to get from your music?
A resonance of a sort, I think, is vital.
Tell me about your cds and any new projects your working on?
We have officially released the Black Currents EP. I'm very proud of the work that's gone in to it and what has been produced. I had a wonderful group of musician friends join me in a remote part of the country and we had a lot of fun with the producer, Ian Grimble, at the helm.   Next up is an album. It is in the process of recording and production and will be released some time later in the year.
What would you like to be doing 5 years from now?
Something similar to this but with a bit of a more stable financial situation perhaps. Or maybe I would like to be on a field, atop a hill with a flock of sheep.
 
www.rachelsermanni.net
By: Diana Olson – diolson05@yahoo.com