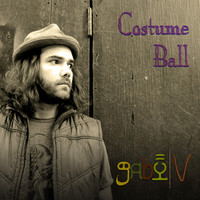 Gaby V (Gaby Velazquez) is a young singer/songwriter who's difficult to peg down and describe, yet easy to be intrigued by. Acoustic, folk, rock, and world music all find their way into his music, and the progress he's made thus far has afforded him some serious credibility. First off, he's worked with Grammy award winning engineer Oz Fritz, whose catalogue includes greats such as Tom Waits, Les Claypool and Trey Anastasio. If that weren't enough, Gaby has also performed in notable venues such as the Filmore, Café du Nord, and the Red Devil Lounge.
Gaby's voice shoes evidence of wisdom beyond his years. "Costume Ball" is cheerful and satisfied, like restful contemplation at sunset. Gaby V's role is that of a poetic observer, painting a picture relatively free of ego, much like Paul Simon on "Graceland". This is a rare quality in a musician, as it takes a maturity not readily available in most individuals.   All elements of the instrumentation and vocal melodies are elevated and beautiful. "FOG" is contemplative as well, but not lost in thought; instead it's filled with a sense of wonder and reverence. The laid back subtlety of the piece serve to support the dreamscape-like atmosphere and the "come what may" direction of the lyrics, similar energetically to "I'm Only Sleeping" by The Beatles.
"Whistlin'" is a stunning, accessible and yet experimental piece that combines rich, upbeat rhythms with electronic sound effects and gorgeous backup chants. The mood is strictly one of taking flight, and it's an inspired one. This is a definite standout track. "For Rent" sets a more melancholy scene, although Gaby V's detachment and witness perspective keep it beautifully hopeful and dreamy. As with the rest of the album, complex rhythms and harmonious melodies make this song rich and rewarding. "Northern California" finds Gaby getting out of town and on the road, adding a strong lead vocal to the chorus and a groove that would be hard to top.
"Revolution" brings a world/reggae vibe to the album, but Gaby tapers this effect with his own unique style. The message and music are both hitting the mark. This is one of the stronger anti-war songs I've heard in the past few years. It's becoming silly to go through this release track-by-track, as it seems Gaby V's musical intuition and song-writing are unable to mess up. "Impatiently Small" brings more Paul Simon influence and we're in Graceland territory once again. "Ear Fly" slows the pace and lowers the vocal tone for a campfire jam session.
"Spaceship" finds the album picking up again, and Gaby V brings back the midrange lead vocal that worked so well on "California". It's nice to hear this variation, as Gaby shines in both the low and midrange registers. This is the type of experimental composition that could have been found on U2's "Zooropa". The drum beats, hand drums, bass and synths are so well-chosen they seem to trade off and blend in together. Seamless.   "Just Want Small" is another poem from the peaceful observer, and another easy-listening track that has instant appeal.
"Taste of it All" is another highlight with its wise chorus and trudging rhythm, while "Could have Been's" and "Bag of Moments" give the album a suitably peaceful "send off".   "As I climb I keep on climbing. What I find, I push it to the side." There is the wisdom if you see the subtlety of it.
Gaby V is a stellar artist through and through. He shows mastery of his own unique style fusion, and although there is room to expand into more areas to create more musical and vocal variety, what he achieves on "Costume Ball" is a gorgeous and consistent album full of wonder, contemplation, contemplation and peace, and he manages to transmit that energy very effectively. I'd have to be incredibly fussy to find a flaw in a release like this.
By: James Moore – james@independentmusicpromotions.com
[Rating: 5/5]