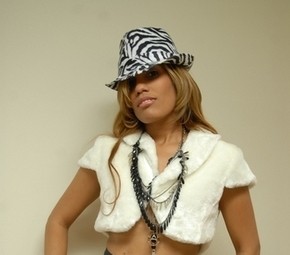 Specializing in authentic, sexually charged electro-dance-pop, Amarily originally comes from the Dominican Republic but now calls Boston home.   Promoting herself with recent singles such as "Take This Kiss" and "Mucho Dolares", Amarily hopes to cater to the highly competitive mainstream club/radio pop scene with her very well-produced tracks and upcoming music video, which was produced in the Dominican Republic and is out now. After overcoming some personal hardship, Amarily is reinvigorated and ready to focus on her music career.   I had a chance to discuss her thoughts recently on the music industry, her inspirations, and what we can expect to hear from this exciting artist in 2012.
[youtube 3i5ylcNSmd8 nolink]
What made you want to be a singer?
I feel free when I sing. I can express myself in my music and be heard.
Please tell us about your upcoming music video that you recently shot in the Dominican.
Since this was my first video it was very exciting, especially be in my country. The crew and director were great so it made everything easy for me.   Most importantly I began seeing my dream of becoming a singer come closer to reality.
Can we expect a full-length album release or EP in 2012?
Yes. I am currently working on a full length album which should be available in July.   We released three songs separately that initially were going to be an EP.   However since the genres were all different for the three songs, Pop, Latin Pop and Hot AC we felt the best course would be to release them as singles.
Who in music today inspires you the most and why?
Celine Dion. She sets a standard as an artist who truly dedicated her life to singing.   When you think of Celine Dion you only think of music. That is her focus.
[youtube wIE2eVNq5g0 nolink]
What excites you the most about dance, club and pop music?
The energy you feel when you hear the music. When you hear it and it is good it takes hold of you and makes you want to do something. Dance, move your head or something.
Do you feel that your background gives you a unique musical perspective?
Since I lost my mother at a young age, music was my friend and companion.   When I was lonely music was there. When I was sad music cheered me up. Music made be laugh, dance and celebrate.
Are there any trends in music today that you'd like to change?
I would like to change how music is sold. I like the old way of selling CD's and albums. I think people are more connected to your music and you as an artist if they buy your CD.   Nowadays with downloads they can download your music today and discard it tomorrow. There is no commitment.
How has the internet helped or hurt your music career?
The internet helps because you can get exposure and you do not have to rely on getting a major label deal to be heard. You also can reach a global audience with the same level of marketing it takes to reach a local audience.
Is there anything else you'd like to share with SKOPE and your fans?
Support, Support, Support.   Independent artists need your support. If you like my music or other artist music download their song or buy their CD. I want to connect with my fans and the only way I know I am giving them what they want is when they buy the music.
http://www.amarily.com / www.reverbnation.com/amarily
By: James @ james@independentmusicpromotions.com