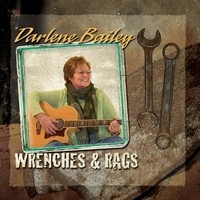 Darlene Bailey is an emotionally charged folk singer/songwriter from Boston whose story is a realistic one that may have some lessons in it, as most stories do. Darlene began writing songs during her teen years before sidelining this passion for many years because of, well, life getting in the way. Many of us have talents that we've done the same thing with, convinced that our passions, our self-expression, our assigned duties and our professional vocations just can't peacefully coexist. It's good news, then, that Darlene has set an example by taking the hard road. After years of not writing, she began honing her skills again, playing coffee houses and open mics to get seasoned. She even had some TV appearances, after which her song became a permanent fixture on FATV's "Barbara and You" show. Now she has a new album called "Wrenches & Rags", an album described on her site as "both personal and universal in nature".
"Hello, Old Bureau" has mellow guitars paired with a fretless bass to back up Darlene's clear, sweet voice. The production is excellent — right off the bat, this is no amateur release. Darlene reminisces about her past with bitter-sweet reflection, not regret. Her tone is both soothing and classic sounding, with doses of calm wisdom given lyrically ("It's only a short time we mortals are here. Years come, Years gone"). "Linda's Angel" seems like a profoundly sincere message to a loved one who may have departed, but is still very much available energetically to receive and give love. This is a subtly performed, beautiful gem.
"Wrenches & Rags" is another melodic and poetic number, where Bailey sings a nice falsetto for the lyrics "I want to write the world a poem. I want to fly a million flags. Celebrate the life, this husband and his wife built from wrenches and rags." Darlene is definitely a gifted lyricist, and she has no trouble coming across as unpretentious and genuine. "Winds of Change" incorporates piano and a slight change of rhythm, and the mood is acceptance and gratitude. Yet another song that, as described, is "both personal and universal".
Mostly down-tempo and consistent sonically, "Wrenches & Rags" could do with a bit more variety, although this could also be considered as an album to curl up next to an open fire with and just enjoy. After "Winds of Change", the album could have used a slight change of pace, but that doesn't come until the humorously titled "Ricky Rudd My NASCAR Stud", which is a bona fide country song where Darlene channels Johnny Cash. It's a playful change of pace.
Other tracks that stand out include "Naylee", which features a beautiful piano piece that trades back-and-forth with Darlene Bailey's narration(She also delivers some Paul Simon-type wisdom on the chorus), and "The Old Songs", which takes us on a journey back to the origins of Darlene's lifelong love of music.
Darlene Bailey's "Wrenches & Rags" is a solid release and should be a welcome addition to the folk music world. While the release does lag at times, there is not one bad song on it.
The performance is solid throughout and it's clear that this is the work of a true recording artist, not a coffee house performer.
By: James – james@independentmusicpromotions.com
[Rating: 4/5]