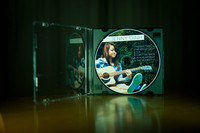 Jenny Dinh, and known as JennyD, a 16-year old singer/songwriter from Lake in the Hills, Illinois plays acoustic music and has already released an album, which can be purchased on her website (www.jennydmusic.com).
 
"Manhattan" is upbeat and shows some colour. JennyD's style here is whimsical and dreamy, and it sounds like something you'd hear in a coffee shop. "Never Let Go" sounds like an emo track that could have been written by Dashboard Confessional, a ballad about long distance relationships.   "11/11" is another love song with the same energy present — sweet and predictable, safe and sound; slightly playful as JennyD sings "You're all that I ask for at 11/11".
"Can't Go Back" and "In a Heartbeat" continue the trend, and the songs really bleed into each other. I'm not sure if this is a result of playing in coffee shops; crafting the songs so they stay on a particular keel, making sure they're all pleasant but not overly involving. You could keep your mind on your conversation while listening to this album, and that's great if it's playing at Starbucks, but not so great if you're an artist who wants to stand out in a crowd.
"The Moment" opens with some simple, pleasant chord changes. Jenny's voice is sweet and the theme is common — the magic of two people colliding, two "stories intertwining".   Jenny seems sincere in this performance that sounds like a live take with a solo acoustic guitar and a single voice. It also sounds like a single take, as the sometimes pitchy vocals reveal. This works well for a live performance. While the performance is good and the song-writing is decent, nothing about it stands out as original or stunning.  
JennyD definitely has the talent, but playing it safe doing something that has been done many times before isn't always the best method of speaking your truth. She sounds like someone who knows who she is but hasn't found her voice yet. There is room for growth here; the exploration of backup harmonies, other instruments to lift the song, and stronger lyrics ("I'll sing you my song if you sing along").
Of course, the fact that nothing overly engaging is happening here doesn't mean that JennyD isn't a talented artist. Her playing is proficient and her voice is quite good. She has definite potential, and once she finds her own voice she'll be producing some interesting stuff.  
By: James – james@independentmusicpromotions.com
[Rating: 3/5]