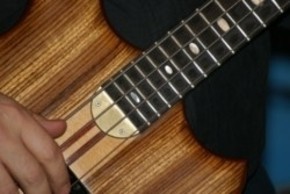 Well, hello, Music Up Close clubbers. Sorry for all of the packing boxes. We've been moving the club across the country and have been in transit and out of touch with all of our wonderful Music Up Close regulars. We are temporarily set up in an old warehouse in SOCAL as they say there, southern California. I'll let you know where we end up permanently. But we may be a moving event like a rave. We'll keep you posted.Snake, my hunky, metal-faced, Maori-tattooed, super bartender, hasn't handled the move very well, though he loves being so close to the action in LA. Unfortunately, he's been working so hard he hasn't been able to take in any nightlife here. And we are sooo close to a lot of club friends there, like Latin hip-hopper Deploi and LA painter Bernard Hoyes. We are soooo close and yet so far away.
We did take in a fundraiser for Friends Across the Line, an organization that helps foster communication and understanding about groups who are on the fringe because of race, national origin, religion, disability, or sexual orientation. There's a concert review at Refrain Magazine (http://www.refrainmagazine.com) and a review of an EP by Matatu, one of the performers that night. This LA band is well worth checking out.
In the meantime, for your entertainment pleasure, we are hosting a big blues night here at the club. I know, I know. The American Southwest isn't known for its blues….GRIN….so we decided to bring some with us. We have four hot blues albums we're featuring in the Studio. And we're pointing you toward a couple of other stories about groups, causes, and events in the area, as well as a big unveiling of my new novel about the music industry and who's really gracing those pages.
Unfortunately, we haven't got the Lounge up and running, but we'll give you a tour of the facility before everyone comes in for tonight's rave. So grab a drink and come on back to the Studio to see what we have picked for you.
In the Studio
Shame on Me
Peter Lochner
Self
When I got a copy of Minneapolis' rocker Peter Lochner's first original album, Shame on Me, I was glad to give it a spin. I've known Pete for a few years when he was playing with Stook! and The Jukes. He was one of three guitarists, joining Blair Krivanek and Stook! himself, in that grungy pop mix that often wandered into electronica and turntable bliss.
But when I put this little marvel into my CD player, I was floored! Peter Lochner has produced an incredibly sophisticated but roots-raw blues album that is sure to become a top favorite on your playlist. Every single song is fresh and offers a richness that you'll want to savor time and again. This is possibly one of my favorite blues albums of all time–and that's a tough call when you look at who else I'm covering this month. But Shame on Me is flat-out good.
Each cut evokes feelings and reminds me of different performers, though Pete is not deliberately trying to emulate anyone. Let me take you through the tracks. Starting off this gem is "Testify," a gospel-rich tune that's about relationships, that has vocals reminiscent of Chris O'Brien's work with Enchanted Ape, especially his "Pine Tar Jack."
Organist Toby Lee Marshal and singer Erin Heitkamp lend some tasty background vocals.
Pete turns up pure blues in "A Cheatin' Song" that has echoes of JJ Grey of MOFRO. Again Marshal and Heitkamp produce tender vocal support. Here Pete pays tribute to the Minneapolis icon Prince with the line about Purple Rain that just tugs the heart. But it is Marshall's church organ that adds the spice to this little gumbo.
Next up is "Aint No Love" that cooks with Molly Maher's soulful vocals that complement Pete's swamp blues. Here Marshal adds not only organ but a delta piano. Maher is a bright talent who has the chops of Bonnie Raitt. Very, very nice.
"Crazy" is a soul number that Pete delivers like a pro with a little of early Springsteen tossed in on those rare occasions when the Boss decided to slow it down. The addition of trumpet by Zack Lozier and saxophone by Gus Sandberg emphasizes that New Jersey sound. Like Springsteen, some of Pete's lyrics become anthems that you'll find yourself singing along with. Marshall's Fender Rhodes adds depth as well as Heitkamp's backing vocals.
Then there is "Don't Know Much," a heartfelt tune about a lost friendship. It is simply supported by Blair Krivanek's crying electric lead guitar, Marshal's clean piano, Caleb Garn's bass, Jordan Carlson's percussion, and Pete's own acoustic guitar.
Once more Chris O'Brien's vocal style is echoed in Pete's cut "No More," another organ-laced tune that has Tracy Cook's distorted guitar inserted in the middle
I was intrigued by "Save Me," a tune that reminded me of Dylan's "I Shall Be Released" but given up to a honkytonk piano and a gospel chorus composed of Marshall, Mick Sterling, Cate Fierro, and Shalo Lee. Sweet!
"A Beautiful Mess" is a raw, rootsy tune composed of only Pete's vocals and his electric guitar that often sounds like a resonator model. It's a moving tune because of its lack of production. It was the perfect production for this song. The line "If I'm a sinner and darlin' you're the sin" is destined to be a classic and so much more so than if it had been countrified.
On "Tell Me Please," Zack Lozier's trumpet and Gus Sandberg's saxophone return to add the fullness this upbeat tune requires. The tasty electric guitar lead in the middle of this cut is done exquisitely by Mike Medicine Horse. Once more Marshall and Heitkamp contribute great backing vocals.
And the last track, "Lullabye," is a tender cut, bringing the core group of players back into a nice ensemble piece.
All of these songs are supported by Stook! bandmates:   Jordan Carlson (guitar), Toby Lee Marsahll (Hammond Organ, piano, Rhodes), and Caleb Garn (bass). Stook! guitarist Blair Krivanek appears on "A Cheatin' Song," "Don't Know Much," and "Save Me." Even Stook! lays his lead guitar chops on "Testify."
The talents of other musical friends are laced throughout the album. Nick Salisbury plays electric bass on "Crazy" and upright bass and Jerry Jones 6 bass on "Save Me."
Pete's lyrics are intelligent and emotional, but it is the wholly produced song that is the selling point here. Pete's vocal delivery is spot on and aurally interesting, offering the listener a range of styles. That's always a treat because it keeps the album from slipping into boredom. This is an exceptional debut solo album—very professional but keeping the rawness of the blues in which Pete has immersed himself. Go get it!!!
www.myspace.com/peterlochnermusic
Stand Together
Harper
Blind Pig Records
Harper. Don't mistake this blues artist with anyone else. He's a Brit from Australia who relocated to Michigan, living on some wild acreage where he can drive down deep spiritual roots. Stand Together, his third album for Blind Pig Records, is a break from his previous blues-angst CDs. In this one, his spirituality is clearly evident.
I first met Harper at the 10,000 Lakes Festival after interviewing him by phone and talking about his previous recording, Day By Day. It was an unusual blending of blues and aboriginal sounds–something I'd seen in rock bands in particular such as New Monsoon and Kan'Nal. But it always seems slightly contrived. Australian performers such as Xavier Rudd who understands the deep spiritual connection of the didgeridoo seemed to incorporate those aboriginal sounds more authentically. Harper is no exception.
But even Harper didn't come to a deep awareness of his homeland's aboriginal and spiritual roots until he met Dan Running Bear, a Hopi native Harper encountered in Colorado. Running Bear encouraged him to explore Australian aboriginal music and thus he learned not only how to play the didgeridoo but discovered the plight of natives in his home country.
Before coming to the US in 1996 to perform, Harper recorded six blues albums, earning multiple awards for Male Vocalist of the Year, Song of the Year, and Acoustic Artist of the Year. Blind Pig Records signed him as their first international act and released Down To The Rhythm in 2005, the same year Harper moved here. Day By Day followed two years later. [I reviewed this one in an early Music Up Close column.]
But Stand Together, a self-produced album, showcases not only Harper's musical skill but his ability to craft songs of merit that will last. Backed by his Michigan-based touring band, Midwest Kind, this new album resonates like none other Harper has done. Having seen these musicians live on several occasions, I can attest that the cohesive interplay on stage between all of these musicians is fresh, tight, and intuitive.
Marc Dixon is one of the most creative percussionists I've ever seen perform, fashioning fills on drumkit without overplaying or intruding into the nature of the song.   Often what is heard is this interaction between Harper's vocals, blues harp, and haunting didgeridoo.   This is clearly evident in the first cut, "I Never Want," that starts the album out strong with rousing rock and heavy didgeridoo. Though guitarists Gregg Leonard and Chris Du Ross and bassist Chris Wiley Smith are present, they hold up the color of this tune. Other songs such as "Looking at You" show the skills of these other players very well. But Kurt Wolak's work on Wulitzer and Hammond organs and piano is almost lost in this album, coming out of the shadows in "Weaker Man."
At the forefront always are Harper's lyrics. The harp and didgeriddo, though up front, become vehicles for his unique message. Each song deals with some human issue–getting along, being authentic, being true to yourself, connections to the land and to each other, and peace. The title cut, "Stand Together," is a haunting call for unity and is restated in another way in the anthem "Love=Peace=Freedom."  
Then there are songs like "You Know What You Got," "Chill Out," "What Are You Gonna Do," and "Damn Shame." Here Harper is a loving big brother who tells it like it is, giving us some guidance about how we should live.
"No Problem," "Weaker Man," and "Not My Brother" point out the disconnection modern society has with its fellow humans. Harper doesn't mince words as he paints portraits of the working class and others in need, using his vocals to speak the words society uses to separate and criticize.
Then in "Chill Out," Harper sings about a disturbing breakup where one of the partners wasn't open and honest. It's probably the closest to traditional blues in content, though it has more of an island-meets-rock feel to it. It is a harsh song but probably says all of those things we'd have liked to have said to an ex.
"Take These Arms" is the only love song of the lot–or more accurately a song about true friendship. It has a funky piano and organ lead that almost is gospel, which is a real twist for Harper. It is a tender song. Everyone should have a friend like this. Interestingly, though, it is placed right after "Chill Out," creating a wonderful contrast to the harshness of the breakup song.
The last two cuts, "What Are You Gonna Do" and "Damn Shame," are quite different. The first calls for change and action.   But "Dame Shame," though an upbeat song, is an indictment of inaction and unauthenticity. It's an odd choice to end an album that is trying to create awareness and change. This cut indicts and perhaps that's its purpose, to keep listeners uncomfortable, to remind us that change hasn't happened and that we need to act and not give lipservice to action.
Stand Together is probably Harper's finest album lyrically. It is also musically tight and expertly produced. It will be interesting to see what else Harper has in store for us with his next offering.
Kory Montgomery Band
Kory Montgomery Band
Self
I saw Kory Montgomery in a live show in a small Fargo bar. He and his band were supporting singer/songwriter Nate Hancock and calling themselves Nate Hancock & the Declaration, but quite frankly Kory stole the show.
Based in Fayetteville AR, both Hancock and Montgomery joined forces, taking the tour to dates in California, New York City, Denver, and St. Paul. Normally, Hancock tours and performs as a solo acoustic act in intimate venues and travels with The Declaration for bigger clubs and festivals. Last year, they were pushing Hancock's solo album, We the People. The title cut in particular has Kory Montgomery on guitar and some other members of his band, including Jeremy Ervin on bass. That song and the rest of the album are framed on lyrics written by Nate Hancock and music co-written by Nate Hancock and the members of the Declaration.
Though Hancock is hardly known outside of his home state, Kory Montgomery is a talented young blues guitar player who is being eyed by many in the industry. The Kory Montgomery Band has opened for BB King several times, as well as Kenny Wayne Shepard, Earth Wind & Fire, JJ Grey & Mofro, Buddy Guy, Robert Randolph, Hubert Sumlin, The North Mississippi All Stars, and many other national acts.
This young player and his band have been touring all over the nation for the past six years. Montgomery's solo album is worth picking up and giving a listen. It's unpretentious with strong writing, solid instrumentation, and intense solos. Recorded at Winterwood Studios with Eric Schabacker as sound engineer, LA musician Mike Officer as co-producer, and some of the best up and coming musicians from Arkansas to LA collaborating, the CD's eight originals and one cover (Willis Alan Ramsey's"Satin Sheets") ring with some of the deep roots and fresh appeal that could only come out of the Ozarks.   Not only are Kory's lead guitar work and his wailing vocals exceptional but so are the chops of his band, particularly Juergen Lottmann's hand percussion. Eman's drums, and Drew Packard's rhythm guitar. Mike Officer adds background vocals on a couple of tunes, producing a nice vocal blend.
Check out Kory's work at www.korymontgomery.com
Breakin' It Up, Breakin' It Down
Muddy Waters, Johnny Winter, & James Cotton
Epic/Legacy
This is a classic blues that every blues aficionado should have. It is a re-release of a 1977 live concert that supported Muddy Waters Grammy-winning comeback album Hard Again. It was a ground-breaking tour that included everyone who had been in the studio with Muddy Waters. That lineup included blues greats Pinetop Perkins (piano), Willie "Big Eyes" Smith (drums), Charles Calmese (bass), Bob Margolin (guitar), and Johnny Winter (guitar). They covered classics like "Caledonia," "I Done Got Over It," "Mama Talk to Your Daughter," "Black Cat Bone/Dust My Broom," "Can't Be Satisfied," "Rocket 88," "How Long Can a Fool Go Wrong," "Love Her with a Feeling," "Trouble No More," and "Got My Mojo Workin'."
These classic songs have been covered by rockers as well as blues performers. Versions of "Can't Be Satisfied," for example, the song that put Muddy Waters on the blues map, have been done by the Rolling Stones and John Hammond, Jr. It is this song, though, that really shows Muddy Waters' performance maturity.
Needless to say, the album is phenomenal. It's a mix of slow delta blues and cooking Chicago heat that is expressed in guitar, harmonica, piano, drums, bass, and blistering vocals. Lead vocal duties are shared by every player except Willie Smith and Charles Calmese. Some cuts like "Black Cat Bone/Dust My Broom," "Caledonia," and "Got My Mojo Workin'" have Cotton, Waters, and Winter stepping up to the vocal mic.
But it is Johnny Winter's gut-wrenching delivery that is exceptional to this album. As a young, white blues artist, he holds his own against these masters and sometimes flat-out overshadows them. Winter, though, was a major champion of early blues icons like Muddy Waters and James Cotton and helped bring their work to a wider, younger audience even as British rockers like the Rolling Stones were discovering them. It is fitting then that Johnny Winter is a cornerstone of this classic album.
Green Room
Now let's slip out of The Studio and pop into the Green Room before the crowds arrive. We have a special display set up introducing, Sugar Magnolia, my new contemporary romance about the music industry.
It's only in ebook format right now, but it will be in print this year. Check it out at Muse It Up Publishing's bookstore here:  
Making cameo appearances with speaking parts are LA hip-hopper and friend Deploi and New Orleans music icon Dr John. Both appear with their permission. Check out my CD review of Deploi's new album, Pushin for Change, at http://www.refrainmagazine.com.
You can find out more about him at his Facebook page, http://www.facebook.com/pages/DEPLOI/193567814543, or at iTunes at http://itunes.apple.com/us/album/pushin-for-change/id435672312
Check out Dr John's website, http://www.nitetripper.com/index.html. He was inducted into the Rock and Roll Hall of Fame in March 2011 and was on tour in October with Cyndi Lauper.
Well, that's what the club looks like at the moment. Come on back next month. There's a backer coming tonight who just might have a deal for us. Stay tuned!
By: Janie Franz – janie_58201@yahoo.com