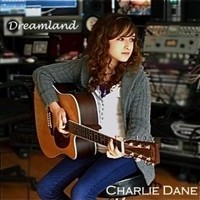 Charlie Dane is a 13 year old singer & guitar player who has already accomplished a lot at her very young age, including, and this is the reason you're reading this review, releasing a full length album called "Dreamland". She played South by Southwest, a festival most bands dream of playing. She's quite heavily trained and has played over 100 shows in the last 18 months. Most indie bands haven't even played 100 shows, so that tells you right away that this girl is dedicated. This review will judge "Dreamland" according to the market it's selling to, which is both kids and teens. It's obvious right away that Charlie Dane is experienced, talented and charismatic. She could easily grow into a star's shoes.
The track "Dreamland" is catchy and engaging right from the first second. Charlie's voice sounds sincere and her phrasing is dead on. She seems to be injecting so much soul in her main vocal, it makes you look forward to what's to come as she gets older.   She's also not afraid to work outside the usual expectations, adding some quirky and humorous lyrics such as "Someone said there's something in your ear. A prickly starfish and other stuff I fear" and belting out melodies that sound inspired by classic rock. This speaks volumes for Charlie Dane's maturity and her intuition when approaching these songs. The guitars and rhythm section in the backing band did a wonderful job of creating a pop/rock track that's actually interesting.
"Past the Point" is a soothing, bitter-sweet song that's too upbeat to be a ballad but too down-tempo to be an energized pop hit, and it's a great way to continue the pop/rock balance of the album. "Tuesday's Just As Bad" is very catchy, and could easily become popular. Imagine what the concept of "Friday" would have been like if the track was well-written and charming. That gives you an idea.
"Back in Time" continues Charlie Dane's sincere singing approach overtop of seamless guitar work and major label sounding production. Who wouldn't want to go back in time, even if just to hang around for a while? The chosen themes are age appropriate, and this isn't an album filled with awkward club tracks, which is refreshing. It also gives you the sense that this is honest work.   "Outside the Box" is a definite stunner and highlight, and it sounds heavily influenced by Sgt. Pepper era Beatles, namely "Being for the Benefit of Mr. Kite". This is ok though — in fact, it would be just fine if many more songs were inspired by these works.
"Soaring" is another highlight of the release, opening with a beautiful piano piece and a melancholic yet hopeful feel. Charlie's vocal gymnastics are displayed here, and you can hear the training — this is a good thing. With this kind of vocal control, she could sing just about anything. "Until It's Gone" picks up the pace with a bluesy, foot-stomping number before closing the album with another soulful ballad, "98".
All in all, Charlie Dane packs more soul into her music than any other artist her age (at least, that I'm aware of). While I don't typically listen to music made for this demographic, I instantly respected her, and look forward to hearing the direction she'll choose to go as the years go by. She could listen to the "industry" voices, or, with her talent, she could go her own way and write whatever she wants to. She could be a great rock, blues or pop artist, or even bend the rules and do work that's completely original. Her voice is that good. It's the latter that I'm hoping for.