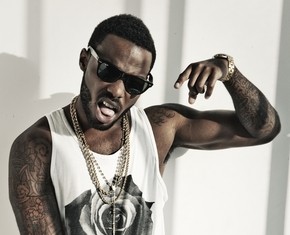 muGz is one of those acts you just know is destined for success. His official debut video Lonely Girl was premiered on cult BET show 106 and Park and his mixtape I Cosign Myself scored him a Montreal Hip-Hop award, not bad for this multi-faceted performer.Intent on being as much about his business as he is about his music, BlackRose Music, the company through which muGz releases all his projects, have a pretty chaotic schedule lined up for 2012. With a new EP due for release in the next couple of months and another video to accompany his single French, muGz plans on maintaining the attention he has already demanded from  Hip-Hop lovers on both sides of the border.
Speaking to us here at Skope, muGz gives us an insight to the importance of a visual, where his concepts come from and just what Bajan beauty has caught his attention when it comes to the videos of others.
How did you get your start in Hip-Hop?
I got my start back in 2006 from watching my older cousin "Mezziah" pursue his career as a recording artist. He is the main reason I am where I am today. His interest and drive for the music is sort of what triggered my hunger. I then started fooling around and writing and ended up with songs. I never really knew I had it in me, until I kept at it. I thought it would be cool to rap.
What artists have inspired you as you have emerged as a performer and why?
Like I said, my older cousin was my role model during my early stages of rap, which then later evolved to artists such as 50 Cent, based on his work ethic and business sense, as well as   Lil Wayne and Ludacris. The emotion felt from their work was an inspiration for me and where I was in life at that time.
You were brought to my attention through your video for Lonely Girl. How do you come up with the concepts for your videos?
Basically the same way I come up with my lyrics; I go with what feels right. For this video however, the team and I sat in a room and just decided to shoot ideas out back and forth until we felt we came up with something concrete. We love "going left field" with our visuals, so we wanted to maintain that concept as well. We ended up with the magazine, page flipping concept and thought it would be cool to plug certain businesses we worked with at that time. Having the two adult actresses was a bit risky for my career, based on my image, but I think we as a team did a good job pulling it off. Shout outs to Lisa Ann and Phoenix Marie, beautiful souls.
How important is visual representation to you?
Just as, if not more important than anything. People like to associate an image to what it is they are listening to. You can't just put out anything, especially if it does not paint the picture you're trying to create. Visuals are a bonus for the viewer; therefore they should always be entertaining, and linked to the music/the message.
Are you involved in the videos from the initial start?
I am involved in everything that has to do with my career… not really the type to sit and let people make decisions for me. Luckily, I do have an amazing support team and circle who help me through the decision making process, ideas etc. That makes it a lot easier. I like putting my ideas out there, even if sometimes they may seem to be a bit too extreme. Professional advice, from directors, producers, and photographers help me direct and clarify my "vision". It is easy to think of something; however it is not as easy to bring it to life.
Video is so important for artists today. When you write your songs, do you have an idea as to how you want these to be interpreted visually, or does that idea come later on?
A picture is painted in my head immediately as the beat is played. While I write, I tend to reminisce on past events, or even play scenes out in my head the way I feel they should have been, or maybe even sometimes the opposite. It's like a three minute mini movie. Certain punch lines need certain effects, just to get that right emotion. Once I finish writing, I usually zone to the record, and then brainstorm. I take the "basic" idea that I originally have in my head, and then push it left field just to add that twist.
What are your favorite music videos, not your own obviously?
Those that are simple, tasteful and real. The ones that don't require a huge budget spent. Not a fan of the "Hollywood" theme videos though, they seem too forced. At the moment, I don't have a favorite video, but I enjoyed Rihanna's "We Found Love." It was full of emotion and straight to the point.
"Lonely Girl" Video: http://www.youtube.com/embed/bwUPXXQbmbo
 
You have had quite a successful beginning winning awards for your mixtapes, seeing how the masses obviously embrace your music, what are your plans for the impending year?
Expansion! Expansion as a company, as a label and as an artist. That is our main goal this year, getting the music out to where it should be. I would love for the world to hear what it is I have to say. I appreciate all of the support and love that I have received up until now, however there is something in me that keeps saying "this is not enough."   There are a couple other personal goals that I have as well, but I rather keep those unmentioned until I feel they are met.
Can we expect a full release from you in 2012?
The focus right now is the EP, "Gone One Day" that is set to be released early this year. This is where my full attention is at, at the moment. A lot of writing and recording has been going on for this project, and we just to make sure it hits well. For the future, yes we do have plans for an album as well, however I rather be in a better situation when it comes time to release. The word "album" for me means more than just putting songs together and releasing it. It has to be personal. It has to be perfect. Plenty time before that happens. In my opinion, we're not there yet, though we are not that far.
If so, will you be collaborating with anyone on that release?
I tend to keep it in house when it comes to collaborations, but I will say that we have production from the US, featuring from established artists from Canada, and more. Don't want to leak too much info before the actual release.
Do you feel you need to collaborate with a bigger name to engage with a wider fan base or do you believe that if you work hard enough anything is possible and a big name is just that?
I feel it depends solely on the record. You can spend a huge amount on a featuring that you feel will benefit your situation, and realize that the song did not pop off the way you expected it to. It has to be real. It has to connect with the audience. Timing is important. If the artist is fresh to the scene, and still cannot carry his/her own weight, collaborating with a BIG name could ruin their career just by being the shadow. I believe you should always work hard no matter what, and possibly hope to attract the attention of those same "BIG" as fans before anything.
If you could however work with any big name producer or artist, who would that be and why?
I think it would be pretty cool to sit and work with an artist/producer like Kanye West. The man is a musical genius, and is not scared to push buttons or break boundaries in this industry. I feel his insight and expertise would add to my understanding of this music thing. His passion alone is inspirational. There are several others that I would love to sit in studio with just to see what their sessions consist of, but I would go with Kanye first.
What are you most looking forward to this year?
Breaking more records, making new music and meeting key people! 2011 was an interesting year for my team, and I feel this year will be a lot more in order. We learned a lot, and are still learning. It is just time to apply our knowledge and also time to fill the gaps that we may have left out. We know what time it is.
And why should Hip-Hop lovers keep their eyes and ears on you?
I don't want to force them to, but I mean we will be in their faces soon enough… Hopefully you enjoy what you see. BLACKROSE MUSIC, we're coming. Let a friend know, it's a movement, it's a new generation… everything, black!
muGz on Facebook – https://www.facebook.com/themuGzpaGe?ref=ts
By: Lara Croft — Crate Raider