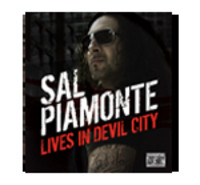 I'd like to start out by saying Sal Piamonte kicks major ass and his latest release 'Lives In Devil City' is a true testament to that.   Sal is a jack of all trades playing to the tune of singer/songwriter, producer and rock 'n' roller.   This record really offers so much with Sal Piamonte not allowing one dull moment.
'Lives In Devil City' is a fictional place created by Sal with the overall theme centered around the classic tale of good vs. evil.   The album title may be a fictitious city but the concepts and ideas behind it are very real my friends.   Sal Piamonte is battling between the good guys & bad guys and so who will win?   Which side will you gravitate toward when listening to 'Lives In Devil City'?
I do have to say that Piamonte has a true rock 'n' roll spirit which shines through on this 12-track recording.   Rock & roll is alive and well inside Sal Piamonte!   Right from the start on "Take Me Home" you are hearing incredibly catchy rock melodies & riffs that drive hard.   Sal proves to be one solid front man with a presence that is well-received.   Sal is bringin' you aggressive, in-your-face energy like on the song "Shining Star" along with a party-like atmosphere on "Go All Night".   Don't be mistaken though because it's not all fun & games as Sal & company slow things down a bit and offer up a sensitive approach on "Just A Little Bit".   You'll also get some major Pop appeal with a powerful sound that fully grabs you on "Tonight".   I also can't say enough about the excellent harmony that Sal and his bandmates display throughout this record with the track "High Road" really standing out in my opinion.   And what a band Sal Piamonte has backing him!
I am definitely a Sal Piamonte fan now and 'Lives In Devil City' would be an awesome addition to your music collection.   Rock & substance collide to make up one killer album.   There is also that cool edge and overall nice-sounding vibe that carries on throughout 'Lives In Devil City'.   I can't say enough good things about Sal Piamonte and this LP so go get your copy right now!   I highly recommend this record and I can not wait to hear what Sal cooks up next!
By Jimmy Rae (jrae@skopemag.com)
[Rating: 5/5]