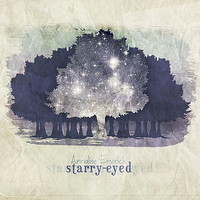 Annalise Emerick is a focused & grounded singer/songwriter who puts everything into her music.   On the debut EP 'Starry-Eyed' you will get to witness the real Annalise Emerick firsthand as she lays it all out there.   Nothing left to hide, you will hear for yourself that Emerick is not shy when it comes to her songs.
There are seven tracks on this disc and I have to say that I thoroughly enjoyed listening to every single song.   Annalise pours her heart & soul into this project as you can truly sense this.   The style is in the Folk/Pop realm with Emerick playing up to both elements perfectly.   This 'Starry-Eyed' musician honestly is a true singer/songwriter & artist because she conveys so much realness and feeling toward the audience.   What you hear is what you get from Annalise Emerick with no exceptions to the rule.
I have to say that Emerick displays such a fine tone to her voice.   Her singing is a perfect fit for this type of music that is both mellow & moving.   The acoustic element seems to be a strong part of who Annalise is as a performer as I just could not get enough myself.   Lyrically, you will hear some very inspirational and even poetic verses at times that will make you stop and think.
One song you may have heard of called "Stand By Me" performed by Ben E. King and written by King, Jerry Leiber and Mike Stoller is covered brilliantly by Annalise.   Emerick stays true to the original while putting her own spin on the classic and I have to say that I was blown away.   I would like to think that Ben E. King, Jerry Leiber and Mike Stoller themselves would be extremely proud of Annalise Emerick's version here.   Tasteful, classy and touching; Annalise nails it all here!
After it is all played & heard I have to say that Annalise Emerick really seems to have that human touch when it comes to music making.   She is ONE with her audience and she wants the audience to be ONE with her ALWAYS.   Emerick says it best here: "It's all there, an open book. I want people to feel connected to me and my songs–everything I sang on 'Starry-Eyed' is true, pure feeling and emotion."   I would highly recommend Annalise Emerick and her latest effort 'Starry-Eyed' to anyone out there.
By Jimmy Rae (jrae@skopemag.com)
[Rating: 5/5]