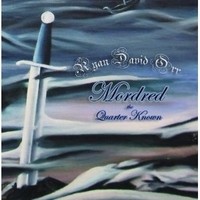 Combining poetry & literature in a music form sums up 'Mordred the Quarter Known'.   Ryan David Orr   's love for classic works goes all the way back to the memorable stories of King Arthur with Mordred being the son of the King.   Orr describes the overall theme best by stating "shedding darkness and getting rid of the things that poison us or kill us emotionally and psychologically."   He goes onto say that "we are only perhaps one quarter aware and in touch with the patterns and processes that make us who we are."   Vividly deep & personal material is clearly evident on Orr's fourth full-length album as you will find out that this talented singer/songwriter has a lot to offer from a lyrical, vocal and musical standpoint.
Ryan David Orr's 'Mordred the Quarter Known' has been dubbed as an alt rock album but there is so much more there.   Orr has a wide variety of influences that ranges from rock & metal to folk and jazz.   I even picked up on some funk with a jolt of funky riffs on the tracks "April, I'm Sure the Stars Understand" & "If You Want Love".   You get a taste of it all by way of Ryan's eclectic nature/background and that's what makes this 11-track recording so good and worthwhile.   On the song "Butterfly" Orr is really digging deep here both vocally & emotionally as you can picture him literally spreading his wings and flying away.   You get a really cool, fan-friendly vibe on "It's Only You" and then get ready to rock out on "The Ocean I Bleed Before".   Prepare yourself for a tribal beat while receiving a spiritual 'n' tender feel on the track titled "Woman".
Orr captures so much here as his words & music will speak to you in large volumes.   He definitely has a voice to be heard and a songwriting ability that is quite impressive.   Throw in the fact that Ryan even displays a Dave Matthews-esque singing quality, which is pretty rad in my opinion.   Ryan David Orr and the highly recommended 'Mordred The Quarter Known' will grab onto your attention and hold it all the way through to the end.   You will hear catchy & provocative numbers as Ryan David Orr proves to us that he is a force to be reckoned with in this music world.   You will definitely want to keep a close eye & ear on this Arizona-based artist!
By Jimmy Rae (jrae@skopemag.com)
[Rating: 5/5]