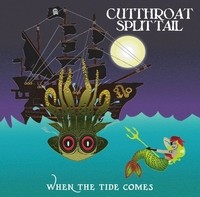 There are certain genres that were made to not have any kind of harmony, like what makes it cool is the madness, the riot. One of the most known of this genres is punk. As years go by, things change and music is included. Some like to call it "music evolution". However, we can say that in some way today's punk is not the same, but at the same time it is.
Coming all the way from Chicago, Cutthroat Split brings us their latest album When the Tides Come, an album that well, somehow reflects this mentioned above. Not the great example, but you may say they somehow "fit" in the description.
Every track is filled with a soft brutal sound and maybe there-there cool vocals, it has like a pirate vibe. The quality could be better though, but again, punk is first wild, rebellion and many other things. Now, it totally worth the time listening, from "Space Case" to "Chicago" there's something that take control of your mind and you need to listen the whole thing at least one more time. Maybe the riffs and guitar solo which can be listen in every song.
In conclusion, Cutthroat Split might not blow you away or kick you out of your chair; but worth time listening to it. Try it yourself and head now http://www.facebook.com/pages/Cutthroat-Split-Tail/127926383913391 and enjoy!
By RJ Frometa – rjfrometa@hotmail.com
[Rating: 4/5]