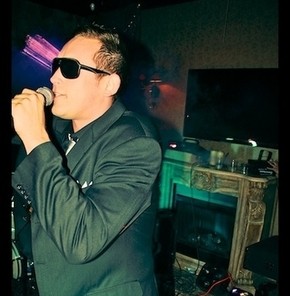 .
Finally back in the game after the holidays and New Years celebration. I had to really think about what kind of musician I wanted to have on to kick off 2012. I feel like I got it right with my boy from Fresno, CA, 2Tallin'. 2Tallin' was caught on my radar after hearing his single "All I Ask." Then I Googled him and it was apparent that this emcee is for real with his. His music is upbeat, catchy, and real to what he is going through in life. Join us as we get to talk with 2Tallin' about the single "All I Ask", how he got into hip hop, music & technology, and much more.
Stoli: Where are we talking from today and how much did you spend on your holiday shopping this year?
2Tallin': I'm in the studio…at my home in Fresno California…….this year I spent about $1,000 on family, business partners, clients, and friends.   I'm a huge giver… it's in my nature ;)
Stoli: At what age did you fall in love with hip hop and decide to pursue it as a career?
2Tallin': I fell in love with hip-hop after hearing Dr. Dre…..I started pursuing my career in hip-hop after I made enough money to afford the equipment, which was in 2005.    
Stoli: How did you get the alias 2Tallin' and has your family been supportive of your ambition in the music biz?
2Tallin': 2Tallin is from my undeniable height.. everyone is always like your too tall my whole live, so I turned it into a verb, with 2Tallin'.     My family is extremely supportive of my dreams in music, my brother is a musician as well he produces Christian music, and my sister loves all types of music, and she helps me promote my shows.     My mother is my biggest supporter in my family, she is always forwarding me articles and giving me motivation.
Stoli: You have your new single out "All I Ask" Ft. Danielle Rondero. What inspired you to write that song and what does it mean to you?  
2Tallin': All I Ask is the first song on my single, it's about the 9 year struggle with my college sweetheart.   We got married, and somehow we fell out of love, and she began to fall in love with alcohol.   This song is the all the things that people say to each other when they're hurting in love.     All I ask is that you be my friend, hold my hand until the days end, when the world goes… I'll be close….be my lover.   That's all I ask for… I think that's all we can ask for
Stoli: You work with Danielle Rondero on various singles you have out. How did you two hook up and how does her vocals enhance your hooks?  
2Tallin': Yes I work with Danielle, I also have an artist Christina, and YB (Mr.SexintheKitchen). Typically I write the hook first, after hearing that beat that I'm going to use for the track.   Once I listen to the words of the hook, I then think…would it sound better if a female sings this or me.     The different style voices always add contrast to the tracks for me, and it's always nice to have them while performing too!
Stoli: I cannot wait to see you live in Boston. What is a 2Tallin' show like and do you have any coming up?
2Tallin': I'm ready for Boston…haha!   2Tallin' show is typically bananas…..usually 250-300 of the hottest, fun, party rockers packing in the club.   Every show we have go-go girls to keep our male fans happy, and usually all the female fans are all over me, so I like to give the guys something too.       Also we always have lots of lights, fog, and we're always bringing high energy.   I get sweaty every time.. I feel like your not giving them a good show…unless you give it your 200%.
[youtube Ur-6k2DvMSY nolink]
Stoli: For a long time it was rough for white emcees but those days are over. Who are two emcess that you respect & listen to besides Eminem?
2Tallin': Absolutely.. I feel like hip-hop is starting to realize that white boys have swagger too.   I honestly love Mac Miller, Sam Adams, Na Palm, YelaWolf, and the new fav is Machine Gun Kelly!!     I'm also a huge fan of whiteboys with swagger like Justin Timberlake…my music is as much POP, ROCK, ELECTRO as it is hip-hop.   I'm trying to push all genres
Stoli: Being an independent artist can be tough but you have strong confidence. What personal traits do you feel are crucial to acieve your goals as an emcee?
2Tallin': I feel like #1 you have to love your music, #2 you music always put hard work behind your shows, #3 you must never give up faith, when one avenue closes…..bust down another door to get your music out there to your target audience.
Stoli: How much time per week do you spend doing music and do you work a 9-5 or go to school as well?
2Tallin': Music is my hobby most importantly…. I own my own business.   We manage Facebook, Twitter, YouTube campaigns for businesses, so I'm on online alot.   I usually multi-tasking….but I would say on average I'm working 14 hours a week on music.
Stoli: I feel like Apple & Amazon are making buying & downloading music easier by the day. How do you buy music and do you feel like music sales will increase due to this new technology?
2Tallin': Absolutely……..I feel like technology is empowering the "David"   (small musician) attack the "Golatih music market".   I would say the only negative to technology is that there is more opportunities for market segmentation….too many people are trying to be musicians in the same markets.     It's time to re-think the wheel ;)
Stoli: Whats coming up for 2Tallin' and where can we follow you online?
2Tallin': Next up….lots of licensing deals, movie trailer deals, and we hope that our album "Future Vs. Retro" will catch the world on fire with positive energy and real stories! You can follow us here:
Facebook: http://www.facebook.com/2TallinMusic
ReverbNation: http://www.reverbnation.com/2TALLIN
Bandcamp: http://2tallin.bandcamp.com/
Soundcloud: http://soundcloud.com/2tallin