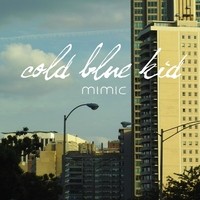 As years go by, new musicians in their quest as a band or singles to create something new, innovative and unique mix different genres one way or another. Some ended up doing it and delivering something better than they and everyone expected and others something awesome, good and probably not as the first one. Not epic, but not band either.
Chicago's Cold Blue Kid new album Mimic can be easily located in the second group. They are not something that will let you jaw open, but they totally worth time listening more than once.
With their moody, gloomy sound and vocals in almost all their tracks with some exceptions here and there like in "Mimic", where the depression turns out more energetic and fun. Recalling sometimes some of their influences as a band such as Joy Division, The Cure, Sonic Youth and others, so if you like any of this groups, probably these guys will be your thing.
In conclusion, they are not explosive, they are not the most original thing you will find out there in the market; but one thing is for sure, and is that they do really awesome music that probably, will make your day one way or another. So head now to http://www.facebook.com/coldbluekid and be yourself delighted by this not so common people and their not so common music… you may add that as a plus.
By RJ Frometa – rjfrometa@hotmail.com
[Rating: 4/5]