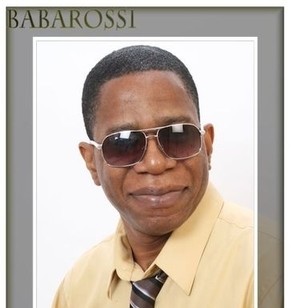 Babarossi is a UK based musician living and working in London, England. He was soft spoken, humble and shy. I'm not quite convinced he is aware of his musical talents? You can literally feel every ounce of devotion that goes into each note and the fun is contagious. His fans see him as a musical genius, but he simply says, "this is just what I do."I could tell he is a contemplator, he put a great deal of thought in all his answers. I like thinkers, it is obvious Babarossi is definitely one. I asked him what the music scene was like in London and where he fit in. He shared with me some of his influences, The Gap Band, Quincy Jones and Jodeci to name a few. It is evident he takes his influences very seriously, as you can hear them in his work.
He said, "The scene here is quite multifaceted. I like this environment because every taste is cared for. Different scenes cater to different genres."
There seems to be no shortage of fans for his style of music. His latest release, "Top of the World" was recently signed to Confidential Records out of the UK for a publishing deal and as an artist he was signed recently with an independent label, Sibee Records Ltd. Music is his life and he is the happiest when it is being created. Melodies have always come natural to him. They live in his head and he is often in the studio laying down tracks.
He explains, "Music is not something you can resist, it comes at the oddest times. Once you have chose this life it takes over and you are driven by it. My job is to monitor what comes in and record it so I can use it later. I've always been a music connoisseur. Every aspect of it is a gift. I love the actual performance. I mean, it is one thing to record a melody that is in your head, but to have someone else listen to it and enjoy it like you do, is a whole new world. But I can't say there is one particular thing I favor the most. The whole process is what creates the inspiration that gets you to the finished project. It is highly entertaining, because it is so natural. As natural as breathing. The idea is to get people dancing and really appreciating the finer aspects of the music and understand the passion that went into every beat."
Not only does "On Top of the World" portray a perfect example of that passion he was talking about, but all his songs do. Now with new technology and social media it is so much easier to create a much broader audience. Babarossi says it has been a Godsend for him and his career.
He continues, "There is really no excuse for anyone not to put the music out there. Every artist has an audience and people that will appreciate their music, social media is an excellent tool to enable you to find those people. You can only get bigger as well, which is a good thing? It is very encouraging for an artist to have that sounding board from their fans. I'm very approachable and I encourage the fans to stay in touch."  
The musical process to a layman is typically quite a fascinating one, but to a seasoned musician like Babarossi, it is simply another day in the office.
He said, "Well, melodies are sure to come first. It all starts with the music. Then the lyrical aspect of it seems to be dictated by that sound. I then go in and put it all together. It is a smooth process for me once I'm in the groove. The biggest trick is finding a hooky melody that sticks in people's minds. The rest, falls into place."
Babarossi currently seems to be sitting on top of the world where his music is concerned and I see an even brighter future around the corner. He is currently in the studio now recording his next CD, which is scheduled to be done in only a few short months. He is actively playing live performances and trying to make more people aware of his musical concepts and pushing the Babarossi brand.
Find him online to keep up with what is happening. He is on the move and new things are happening everyday. In the mean time enjoy, "On the Top of the World". Download it on ITunes and revel in the Babarossi experience, I guarantee you will not be disappointed.  
http://audiorokit.co.uk/babarossi
http://www.soundclick.com/bands/default.cfm?bandID=655359
Rebecca Hosking – rebeccah@skopemag.com