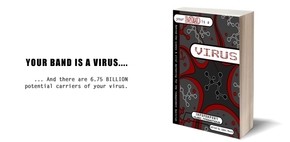 James Moore is the author of the best seller "Your Band Is A Virus" and founder of Independent Music Promotions, a viral marketing company for artists.
~!DiGDuGDiSaSTeR!~ You've written a fantastic book "Your Band Is A Virus". What inspired you to write it?
Thanks very much! For me, many years of promoting music and finding out what worked and what didn't was one of the main factors that led to me writing "Your Band Is A Virus". I call the process "viral experiments". In my experience, I found that most indie bands and artists were either completely out of ideas as to how to promote themselves, or they had the notion that industry people would just show up at their door if they had a good product. I learned early on that this just isn't the case. You need to actively promote yourself. As long as your work is good and you believe in what you're doing, there is absolutely no shame in promoting. When I was playing music I found that I would typically get 5 to 10 times the press that my publicists would get, and it was simply because I cared.
"Your Band Is A Virus" is very much on the side of the artist, but with the goal of instilling in them a respect for the people in the music media. So many artists are overly sceptical and they go nowhere, or they paralyze themselves with the "true artist" syndrome and expect too much. I try to show everyone that there are passionate, good people on both sides of the industry, and once you understand that you're on your way to success.
~!DiGDuGDiSaSTeR!~ What kind of services could an artist expect from IMP?
Independent Music Promotions offers a lot of services, the best of which are the promotion services themselves. For $500 monthly, I offer full, comprehensive ongoing promotion campaigns where I promote artists to music and mp3 blogs, websites, magazines, music video websites, internet radio and podcasts. I am always connecting with new blogs and building mutually beneficial relationships, so artists benefit greatly from that. Because I've made connections with writers at various music websites, artists also get some guaranteed reviews along with all the other "planted seeds". My main objective is simple. To get the artist more press and to over deliver.
For artists who don't have the funds for a full scale campaign I also offer $250 publicity blasts where I go through the same process, just on a smaller scale. I only accept artists that I personally enjoy and who I believe the music press will want to write about. Artists interested in more information or to submit their music for consideration can reach me at james@independentmusicpromotions.com.
At Independent Music Promotions I also offer a variety of services such as reviews, interviews, mp3 postings and features. Artists interested in coverage can submit their music via Music XRay.
~!DiGDuGDiSaSTeR!~ What are the main differences between publicity and promotion?
Good promotion will create good publicity. Promotion is actively raising awareness, while publicity happens when people are aware or becoming aware of your product or service. Publicity is the reward.
~!DiGDuGDiSaSTeR!~ How can readers get your book?
My book is available at http://www.yourbandisavirus.com, or http://www.independentmusicpromotions.com. There is also a kindle version on Amazon. Very shortly it will be available at all the major retailers (Barnes & Noble, Apple, etc). I recently updated it so anyone buying it now will be getting some new tips on how to promote themselves.
~!DiGDuGDiSaSTeR!~ You have a really long list of helpful sites on your IMP marketing page. Are you affiliated with them personally and are you concerned that DIY'ers will just contact these links themselves, or is that the point?
I am affiliated with some of them such as Music XRay, a site that I've built a great relationship with and also found some excellent artists on. Some websites or blogs I add because I like their aesthetic, though I try to keep the list as friendly to independent artists as possible. If a website is closed off to real indie artists I don't typically support them. The list is definitely meant to be used as a resource by indie artists and it's always being updated. You should find many places who will give you press coverage on that list.
~!DiGDuGDiSaSTeR!~ What is the best reason for an artist/band/musician to use IMP services?
Every band's situation is different, but many serious bands find it hard to put in promotion work while balancing full time jobs, relationships, and writing/performing. That's where I come in. I put in the time and also utilize my contacts to help the band move forward. Also, there are artists who just don't want
anything to do with the marketing side of things, and that's ok too. The ideal situation is for artists to promote themselves in any way they can and also work with someone like myself to get them press and raise their profile. Also, having a publicist represent you sometimes looks better than you representing yourself.
~!DiGDuGDiSaSTeR!~ What is your musical background?
I have played music for roughly 15 years with a specific passion for rock of all types, and hip hop as well. I play multiple instruments, primarily self-taught. I started promoting artists in 2006 and writing about music marketing in 2009, when I released "Your Band Is A Virus". The success of the book inspired me to start Independent Music Promotions so I could get more directly involved with a larger number of artists. I contribute to a number of independent music publications and have teamed up with great indie music hubs like The Indie Bible, Skope Magazine and Music XRay in order to reach more people.
~!DiGDuGDiSaSTeR!~ With the economic downturn of the last few years, what types of service packages are available for bands on a budget looking for exposure?
Because independent artists are usually not rich, I decided to charge the bare minimum rates for promotion work when I set out in planning campaigns for Independent Music Promotions. I also decided to have no minimum amount of months required. Artists can sign on with me for a month only if they like, get a bunch of press, and then stop. There are lots of options. In the end, the artists who prioritize and care the most about promoting their work will budget and put some money into it. It costs money to break a band, and that's the reality.
For artists who are struggling financially but would still like some help with getting reviews, I can also do custom plans where I put in some hours for them, get results, but don't run a full campaign. If your music is great, get in touch and we'll find something that works for you.
Be sure to check out "Your Band Is A Virus"
and visit http://www.independentmusicpromotions.com
By: Rescue Records' ~!DiGDuGDiSaSTeR!~ is a published songwriter, musician and writer. – douglas.garnett@gmail.com