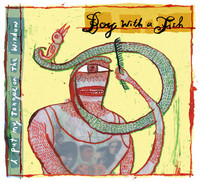 Over the years we've seen rock & hard rock slowly erode into over-commercialized, corporate puppet shows providing music that is extremely sing songy, predictable, popish & highly corporate. I hereby call this new breed of music "Poser Rock" and I want to personally thank all the corporate giants for successfully transforming "Sex Drugs & Rock n Roll" into "Yoga, Vitamins and Nikelback" Of course millions of musical lemmings don't know the difference anyway, but not everyone is amused. Talking to many music fans out there the response is overwhelming. Give me something new, something raw, something that's pushes the envelope with a fresh sound that doesn't sound like Nikelback, Daughtry or Lifehouse.
So across my desk slides the new CD by New York's own Boy with a Fish headed up by guitarist-singer-songwriter Jeff Claus and produced by the likes of Will Russell and three-time Grammy legend Pat Dillett. What I heard put a smile on my face. This latest CD entitled "I Put my Tongue on the Window" Left Ear Records (2011) has everything. It's a nice easy flowing record that delivers solid songwriting with a reckless Indie-feel. Boy with a Fish cited influences from the likes of Arcade Fire, Talking Heads and Deeerhunter. But personally I hear XTC, Bare Naked Ladies and They Might be Giants but much more passionate and melodic. There's definitely possess a raw underground sound but is worth mentioning this is a very polished sounding CD from start to finish. If you like the above bands you should definitely check out this latest release. CD is available on CD BABY and can be downloaded on I — Tunes.
Favorite tracks — Wish I Had a Plan, How Will I Go, Water on Mars.
"I put my Tongue of the Window" by Boy with a Fish is a solid release with many rocking grooves. It has a vintage underground New York sound that hits you where it counts. My hats of to Jeff Claus for brining all this togertha dn the production virtuoso of Will Russell and Pat Dillett. It's definitely a record that gives us a fresh glimpse at a new band with a fresh sound and a hot line-up. It also takes us back a few years — before everything started sounding like — well Nikelback.
By: Kevin Huber
[Rating: 4/5]