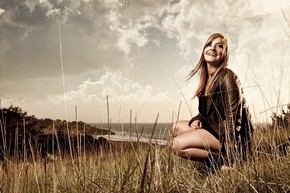 Jessica Caylyn is a California country-rock singer known for her powerful voice and audacious stage presence. At 10 years of age, she fell in love with the "natural high" of live performing, and Bay Area audiences were quick to fall in love with her. It wasn't long before Jessica was singing the national anthem to thousands at gargantuan venues like AT&T Stadium, Laguna Seca Raceway, and the Oakland Coliseum.
Jessica Caylyn "Just Can't Help Myself" MP3:
She quickly found her home turf: country-rock. In early 2010, she formed the Jessica Caylyn Band, and immediately began performing widely, winning awards, and garnering exuberant reviews. With a voice "soulful like Adele with the power, breath control, and wide range of Martina McBride," she easily took the Bay Area music scene by storm.
Her debut EP, On the Edge, has been heard over the airwaves in the U.S., Canada, Australia, Germany, Spain, and the U.K. It features three upbeat songs and a bonus ballad, three of which were penned in part by Jessica.
Jessica looks forward to touring internationally within the next five years. She's got talent and determination, and she's not afraid of rejection-ingredients to success in the music industry. Look out, world!