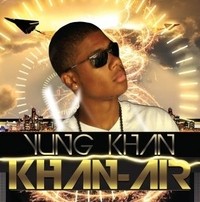 I couldn't help but think of the action-packed movie 'Con Air' starring Nicolas Cage, John Malkovich and John Cusack when I first came across Yung Khan's latest installment.   Just as 'Con Air' was a high-energy thrill ride, 'Khan-Air' offers up much of the same with 13 blazingly fresh tracks.   Yung Khan is a rapper hailing from the city of Detroit who also happens to be the CEO of Ydot ENT.   YK is ready to soar above the competition with his new record so everyone fasten your seat belts and get ready!
Right out of the gates on the opener you'll realize that Yung Khan is a "Bad Man" when it comes to spillin' rhymes.   His delivery & style are catchy to say the least where you definitely pick up on a radio-friendly approach.   You get mature, roughneck lyrics but it's all done in a way that appeals to many.   You get that street mentality that can easily land into Pop markets just by the way these songs were put together.   On "Cinderella" Khan plays off of Rihanna's hit single "Umbrella" and then he taps into a little LL Cool J on "Phenomenon".   Yung is simply goin' off and spittin' lyrics at you like crazy on "Dreams and Nightmares" and then wrap yourself into a nice "Love Song" designed for the streets.   I have to say that I absolutely loved the intro to "Flight Jackets" where Yung Khan takes to the driver seat and announces that "all systems clear for takeoff".   This was such a hype start to a song that really draws the listener in and gets you pumped up.   Honestly, I would have liked to have heard more intros like this on this album because it adds so much excitement to the mix.   This effect takes the song to a whole new level right from the start and in turn would compliment Khan in a major way.  
I heard some hot beats on this one that really sparked my interests.   I also witnessed a rapper that has a smooth 'n' swaggy style with crazy potential.   Sky's the limit for the young & creative-minded Yung Khan as 'Khan-Air' has now landed.   The question now is what flight will he take next and when will it depart?
By Jimmy Rae (jrae@skopemag.com)
[Rating: 3/5]