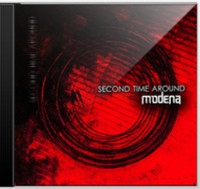 Get ready for Modena as they will grab your attention with their EP release titled 'Second Time Around'.   Modena hails from North Carolina and this is the first time working with indie label Filament Records and award-winning producer Jim Wirt who has worked with the likes of Incubus, Hoobastank, Live and many others.   The EP definitely has that professional, well-polished touch along with a appealing sound that should attract new fans everywhere.
This band is made up of four members: Justin, Jaymz, Stewy and Derek.   What they bring you is rock with an edge that has plenty of alternative juice and heavy riffs.   Hard rock, tight 'n' crisp vocals/harmonies and substance galore are just some of the many things Modena has to offer.   After hearing all four tracks I have to say that I am extremely excited for the future of this group.
You will get to experience the title track twice as "Second Time Around" & "Second Time Around (Radio Edit)".   Both versions have that special charm and to be honest a powerful impact on the listeners at least for me personally.   You get material that is both lyrically & musically rich which could be run on Top 40 stations right now.   The songs scream commercial success for Modena and if I'm wrong then sue me!   It's ironic that producer Jim Wirt worked with Incubus because you receive a definite Incubus-styled vibe on "Second Time Around".   It actually took me back to the sensational 'Make Yourself' album that proved to be a MONSTER hit for the band.     On "Hang It High" you'll get heavy-as-hell guitar riffs as Modena is just rockin' away like there is no tomorrow.   Finally on "The Chosen Few" one will quickly realize that this band is simply on fire.   The chemistry is there and the right sound is in place as Modena seems to have it all figured out at the moment.  
I am proud to say that I am a Modena fan now but I want more!   Four songs just isn't enough for me from a group that has huge potential to make it BIG in the music world.   In the words of Pat Benatar "Hit Me With Your Best Shot" Modena because I will be waiting patiently.  
By Jimmy Rae (jrae@skopemag.com)
[Rating: 4.5/5]