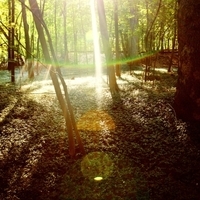 Childish Gambino last album Camp is agressive, epic and one of the greatest hip hop album you would find out there. Probably one of the best of 2011!
Every track from "Outside" to "That Power" is brilliant, rude and brutally explicit as Childish's life with a great, catchy, beautiful and awesome sound that plant a seed which slowly grows into your heart making you fall in love right away. Songs like "Heartbeat" would kick you off your chair and get you dancing on the dancefloor, street, bathroom, any place you are; so be sure ro be in an safe place before you play that song. Recalling rappers such as Kanye West, Tinie Tempah; sometimes even beating them so badly, this guy has what it takes to become a legend and respected artist.
In conclusion, why waste your time looking for cheap artists out there that doesn't have talent and are just a bunch of posers and big frauds when you can listen something worth the time listening and leave you jaw wide open? Head to http://www.facebook.com/pages/Childish-Gambino/201109308841 and let Gambino's music get inside your mind, body, soul and takes all the control. It's so powerful, you might not need drugs or alcohol, because this would be replace all that and even more.
By RJ Frometa – rjfrometa@hotmail.com
[Rating: 5/5]