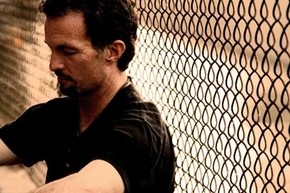 Richard, from Central San Joaquin Valley, California has been performing up and down the coast of California and most recently as a solo singer/songwriter. Richard's first CD "Mile After Mile" His second independent release, "This Winter's Chill" has drawn comparisons to some of our greatest comtemporary songwriters including: Bob Dylan, Bruce Springsteen & Steve Forbert.
With his unique voice and original songwriting, he has written hundreds of songs. Currently working on his third independent release, the new CD promises to be a mixture of interesting rhythms and inspired storytelling. "The new CD is a bit of a departure. Rhythmically, the new CD has taken on some direction that is new for me and I am really having fun with it. I am certainly stretching vocally and enjoying the inspirational quality I am working to infuse into this CD lyrically. I have always been fond of stories of the human struggle." This has been a busy year for Richard. As well as working on a new music CD release, Richard has also recently released a CD of the Guided Mindfullness Meditation he uses in the work that he does with those in the early stages of addiction recovery. The CD is a beautiful and peaceful guide for allowing attention to the moment. "So often our thoughts will carry us away from our appreciation of the moment, which can contribute to our stress and anxiety."  
 
What and who inspired you to get into music?
 
I started taking piano lessons when I was five or six years old.   I was a very small introverted kid, with glasses and not a lot of interest in some of physical activities a lot of kids were into.   We lived outside of town on a ranch and had a piano and I loved it and was good at it.   I always had a love for melody and the impact it had on my mood.   As I got older I heard the Beatles on the Ed Sullivan show and some of the other early sixties sounds like Bob Dylan and the Stones and I was just hooked!!   I gave up piano cause my teacher wouldn't teach me rock and roll music.   At the time, my younger brother was starting to play guitar and had friends over to play as well.   Eventually we formed a band, I got a drum set and became the drummer.   In those days I was totally hooked on the Doors,   Iron Butterfly, the Animals, the Beatles and the Stones.   Just couldn't get enough.   Later on I became more focused on the singer/songwriters like Joni Mitchell, Jackson Brown, and Dylan, eventually Springsteen and always had an interest in Merle Haggard and the Bakersfield sound.
 
You said music reflecting human struggle has always been of interest to you — tell us how this comes through in your music?
 
It is so true.   I look back on the years I spent listening to the music of my time and realize that I was pretty isolated as a kid.   I worked a lot from a very young age, on our ranch, on our uncle's ranches, just cause that's what we did.   Just a good work ethic.   My family had a ranch and we all had to pitch in to help.   Music was my best friend!   I learned a lot of life lessons from the lyrics of the music I heard.   How to get through the difficult times.   Haggard, Brown, Dylan, JD Souther, Emmylou Harris, those were beautiful melodies and sad songs.   They told stories of how people survived the difficult moments.   We had some difficult stuff go on in my life and I wasn't always comfortable talking about it with others, cause I didn't have a lot of close friends, so I learned that the medium of song was an avenue for expression.   You hear it all throughout the new disc Avenue 256 (by the way, that is the name of the street near where I grew up, that was the road into town.)   "Walk With Me" is definitely a reflection of walking through the difficult times we are experiencing in this country right now.   "I Just Breath" talks about letting go of the past and moving forward.   "Waste Deep" is certainly about finding that moment when you gotta stop doing what you are doing or get buried by it.   Probably the clearest song about the human struggle is "Freedom of the Truth" which is essentially about my older brother and anyone struggling with the disease of addiction as I have, and the truth and freedom that can come from moving through that process and having the willingness to change, or not, as was the case with my brother, who, sadly, was taken by the disease about 5 years ago.
 
The meditation CD?
 
I just released my second Guided Mindfulness CD "In This Moment".   I recently celebrated 20 years clean and sober and for about the last ten years I have been involved with a drug and alcohol treatment center here in the Los Angeles area.   I was at a real low point in my life about 10 years ago and preparing to live in my car, when I got a job at a treatment center where I could use my recovery experience to help others.   I had used meditation and mindfulness with a mentor as a means of quieting my mind and helping me to work through some fear and anxiety, and very gently started to pass this on to others in early recovery.   It actually became quite popular at the treatment center to the point where I was doing several large groups and eventually doing meditation and spiritual work individually, when the owner recommended that I do a meditation CD that they would pay for and give out to clients.   Eventually they began including the meditation/spiritual work in their marketing activity and the whole thing just kinda went nuts.   I still work for the treatment facility but have since started my own private business and have travelled all over the world speaking and conferences with psychiatrists and psychologists showing them the value of meditation/mindfulness in early treatment of addictive behaviors.   The new disc is a product of the success of this work and has 5 individual guided meditations dealing with specific issues, which is kind of an unusual approach, but it has been extremely well received.
 
CD's and Projects in the works?
 
The new music CD "Avenue 256" and the new meditation CD "In This Moment" both came out early this year.   Knowing that I was going to be releasing both CD's at the same time, I knew instinctively when it came for anything else I didn't want to pull away from promoting them to go finish new projects.   My next music CD has already been recording with 12 new all original songs, and the next meditation CD has been recording already as well, formatted just like the current one, using different topics.   I also have two book projects in the works that are nearing completion.   One of the tracks off the new CD has been recorded by an east coast artist and is being used in a new independent film, for which the video was filmed this week.   Three weeks ago I began my own Sunday morning radio show on the internet (IndieMadMP3.com) offering thoughtful guidance based on my own life experience.    
 
What do you want your music to say to listeners?
 
Honestly, nothing means more to me than the music!   I think that music is the great healer; it is the great teacher and can be the social conscience of a generation.   I can't help but go back to the times in the sixties and the seventies when I heard a song that just completely moved me, they still do, cause I can relate, maybe not always personally, but I can relate to the feeling that comes through.   Songs like Springsteen's "Wreck on the Highway", Haggard's, "Momma's Hungry Eyes", and Jackson Browns' "For Everyman".   That's the stuff!!!     I tried to capture that intimacy in songs like "Above and Below" on the new disc, an isolated moment, a snapshot in time, a feeling, and on "Let Me In" the struggle to reach out to someone, true life situations. A song like "Walk With Me" conveys in an anthem like manner, to each of us, hoping that we learn to really care about each other in these difficult times, to hold each other, not just walk this path alone.   I think the hope of any artist is to move people, to create an emotion, to have a moment, a moment where the light goes on, where we get some clarity, where we realize that we are not alone in this world, that we are all in this together.   Whether listening to music or doing a guided meditation, or raising a family or struggling or working, we all just want to feel like we are ok, that it has meant something and that we are not alone.
http://richardburr.com/music.html
 
Diana Olson – diolson05@yahoo.com