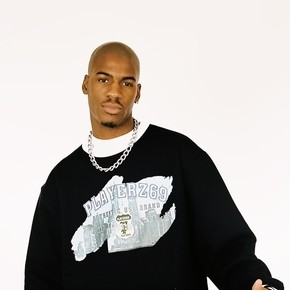 Dutch rapper Silex is no stranger to the spotlight. He has scored chart success in his native Holland and has found himself on various media platforms over his career. Now as he gears up to release his new project, he is eager to make an entrance into the global marketplace.Fueled by the legacies of 2Pac and DMX, he is intent on delivering lyrics with meaning. This bourgeoning wordsmith explains how performing for an audience meant more to him than running around a soccer field in this exclusive interview and how battling is a pre-requisite as you emerge as an MC.
Paying his dues and gearing up for the release of his debut single, a Facebook campaign called 'Everybody Likes Silex' is under way, even though is in its infancy, it is definitely drawing attention to the voice of the Netherlands.
If you had to pinpoint one artist that has inspired you more than any other in music who would it be and why?
I would have to say DMX because after 2pac got killed there wasn't a rapper out there that could reach me through music emotionally and by that I mean the intention on how lyrics were said instead of just coming up with dope lines and not have any feeling behind it. The first time I heard "Hit em up" I thought to myself wow this dude is really upset to be saying the things he said. And the same goes for DMX he's the type of rapper that makes a connection with you.
How did you discover that music was what you wanted to be doing?
I have an older brother and pretty much everybody expected me to be just like him. Where he managed to play football (soccer) on a professional level I too played football but I wasn't as driven to become a pro like he was. But performing in school plays entering talent shows actually getting on stage and entertaining people I couldn't get enough of doing that.
There is quite a Hip-Hop scene in Rotterdam, especially with the 'battle' aspect of the culture. Have you battled yourself?
Yeah the "Punch out Battles" are doing real good shout out to Aiky and Excellent (Zware Jongenz Records) and of course when I was coming up I did battle myself I even went as far to battle online where you had to type your rhymes instead of being face to face straight spitting lyrics lol
What do you think it takes to make a good battler or even a good rapper?
Me personally I'm a fan of flow if you got a nice flow and you can ride the wave lyrics most of the time don't matter; but if you got dope lyrics and I hear you and the beat are not getting along I can't listen to you for long so a good rapper should have both tight lyrics and a good flow or just flow and ok lyrics but the overall sound is just right.
There are thousands of wannabe rappers out there nowadays, is it the same in Holland as it is here in the states?
Of course! You have wannabe rappers everywhere. I used to be a wannabe rapper but with proper guidance you can turn any wannabe into the real deal. I think the problem is they want it all too fast. Not realizing it takes time to and a lot of hard work to master your craft.
How do you make a name for yourself in Europe?
Unlike the States Europe consists of different countries and they all have their own language and traditions etc. so you really have to know Europe in order to make a name for yourself. Also a good product and strong network.
What do you think your strengths are when it comes to all aspects of being an entertainer?
My attitude. It doesn't matter where you put me on stage big or small venue my attitude is "I'm not here to get booed" even if the act before me really got it bad from the audience I'm taking that energy and turn it into positive vibes so we can all party together.
You are no stranger to being in the spotlight from what I read on your bio, what are you up to currently in terms of releases, shows etc.?  
We're preparing for the release of my first single, out on iTunes in January, followed by the EP in the first half of 2012.
When it comes to your music, what gives you the most inspiration and do you feel you need to be conceptual these days to make an impact?  
Like Biggie, Jay-z and Lil Wayne I don't write my lyrics down anymore. I create it all in my head so the most inspiration comes from the beat I picked to work with and truthfully my songs reflect the mood I was in on the day of recording. And out of all those moods I pick the tracks that have gotten the most response to be on my project.
What are your priorities right now in bringing Silex to the masses?
We've started a Facebook campaign called "Everybody Likes Silex" and I'm doing remixes of songs I like so that the people can get used to hearing me on the same track with their favorite artist and pretty much build from the ground up making it happen one fan at a time.
By: Laura Croft Crate Raider
Follow Silex on twitter: www.twitter.com/Silex010
Follow Silex on Facebook: https://www.facebook.com/pages/Everybody-Likes-Silex/139251289499032