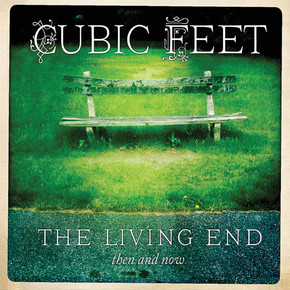 In 2002, Mark Davison was vacationing in St. Thomas, taking some much needed chill time and celebrating the recent release of Superconnector, the fourth album by Cubic Feet, the popular indie band the singer/songwriter founded in the mid-'80s with guitarist/keyboardist Woody Lissauer.He got wind that their song "Hold On Me" was #2 on "8 at 8" on Pirate Radio U.S. Virgin Islands and immediately contacted the station's program director. Davison soon made a return visit to the island, this time with the full ensemble, headlining the station's First Annual Birthday Bash at Bolongo Bay-which turned out to be one of the final live performances by Cubic Feet. But you can't keep a great band down forever-especially when some of their best material has never been officially released.
"Living End" MP3: http://k003.kiwi6.com/hotlink/1jv7hukefy/01_living_end.mp3
Superconnector had the odd fortune to be released on 9/11, a day when the world changed and music was far from everyone's thoughts. Ten years later, Davison and Lissauer celebrate life and affirm the power of music with the release (April 4 on iTunes, May 5 on CD) of The Living End – then and now, a specially priced double CD set. It includes a 13-track "Best Of" collection compiled from Cubic Feet's four albums from the '90s and early 2000s, and a bonus disc featuring eight previously unheard songs, including "The Living End," a mid-tempo rootsy blues rocker which is being promoted to Triple AAA and college radio starting on May 2-3. All 21 songs were originally recorded in analog at Davison's Cubic Studios and were re-mastered for this project at Gateway Mastering in Maine.