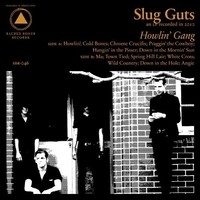 Slug Guts could not be more aptly named. This Brisbane, Australia four piece maintains their swampy, melancholy yet altogether engrossing sound with marked precision throughout Howlin' Gang. Considering Howlin' Gang was recorded over 24 hours straight in their hometown, it's incredibly surprising how freewheeling each of the 13 tracks sound. Bedroom recording is very likely the Slugs natural habitat; these are not songs for the most benevolent of summer days. These are tracks that dig deep into the darker fringes of the listeners psyche , all the while refusing to tread lightly.
It's a shame that Slug Guts often get the "Garage rock" tag pinned on them;   in fact, this is a band that makes even the naughtiest and scuzziest of garage rock bands seem like tame schoolboys. The wallowing drive of "Hangin' In The Pisser" is a full-on sonic assault, "Cold Bones" harkens back to some of Joy Division's more primal work and "Down In the Mornin' Sun," with its greasy stomp, establishes Slug Guts as a band not for the faint of heart.
Howlin' Gang, originally released on Sacred Bones but presented now as a limited edition tour LP, captures this group of hooligans at their rawest and most enigmatic.
By: Joshua Kloke – joshuakloke@hotmail.com
[Rating: 3.5/5]