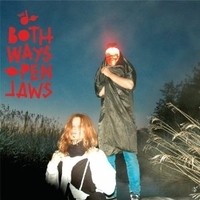 Double strange title and group name, from the duo of vocals/percussion Olivia Merilahti and vocals, drums/percussion, bass, piano and other contributor Dan Levy.   The French/Finnish duo used some additional musicians on their second release, but wrote the material.  
Bust It Off relies mainly on Olivia's high range against some synth.   Gonna Be Sick has some neat jungle like percussion effects, last heard on works by Spike Jones and The Ernie Kovacs show.   This takes you away from the fact that the song lyrically deals with throwing up.    
Too Insistent brings to mind many Blue October arrangements, including the background vocals and instrumental backdrop.   The Wicked & The Blind has the feel of a 70's hippy styled song.   B.W.O.J. (which may be their theme song) is a short instrumental, with neat but confusing synth.   Slippery Slope is a beat driven percussion ditty with a jungle type beat.   The Calendar sounds like Tom Waits should be playing along on pump organ, although the lyrics are too tame for him.   Quake Mountain, Quake is a short Sgt. Pepper's styled tune.  
An interesting thing is that in the liner notes, Olivia explains/complains why she wrote the lyrics to each of the songs.   Sometimes her vocals conjure up Amy Lee and Evanescence.   The release is interesting enough, but has a hard to follow concept, which may be the rage in France.   The duo do combine some interesting instrumental punches though that keep you guessing!  
By RME
[Rating: 2.5/5]