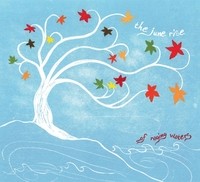 Prepare yourself for all-over-the-map instrumentals that will captivate your senses.   The project is called '…of raging waters' and the june rise is one artist with a true vision.   Guitarist/composer Mark Yodice is the man behind the mask and he has been making & arranging music since his early teen years.   What the june rise has created here is a work of art through music; no doubt about it.
Yodice refers to '…of raging waters' as "unapologetically bizarre" and for good reason too.   You have a wide array of influences here: "Hungarian composers Bela Bartok and Gyorgi Ligeti, 1950s jazz, South American rhythms, African kora music, funk, Americana, and Bjork to name a few," (Alan Semerdjian).   As you can very well see, this new release takes major leaps toward producing a freshly unique sound that will invigorate your mind, body and soul.   Be aware though because it's easy for one to get lost & swept up by the "raging waters" if you're not careful & completely open-minded.   You'll want to have a life preserver nearby just in case.
Right away on "Good Lion" you will hear an experimental display of audio where the june rise is not afraid to cross musical boundaries.   As '…of raging waters' flows along you can sense that there is a nice balance between playing soft and performing robust, more up-tempo numbers.   I particularly enjoyed the tracks "Not For Polly" and "Loveliest" because they were absolutely soothing to the ears and the acoustic guitar & violin shined bright.   Plus, these seemed to be the only two songs that had a set direction in place whereas the other installments had all the freedom in the world with no limitations.   I also liked "Brooklyn Sleep Prayer" because it had an offbeat funky vibe going on that was very appealing to say the least.  
In the end, I have to say that the june rise captured a scene & moment in time through the looking glass '…of raging waters'.   The comforting sound and relaxing mood was definitely set as the june rise invites you to join in on the celebration of the spirit of summer.   I'd like to add that the arrangements & instrumentation were executed very well here.   In all its glory, '…of raging waters' will put you in a calm state where your imagination can run wild.   Since Mark Yodice aka the june rise seems to have a knack for creating the perfect soundscape for summertime bliss why not try for winter, fall and spring next?
By Jimmy Rae (jrae@skopemag.com)
[Rating: 4.5/5]