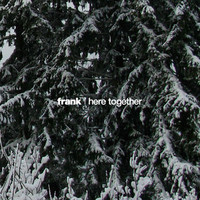 I give you Frank and no it's not the name of a person or a hot dog but actually the name of a rock 'n' roll band out of Brooklyn.   The meaning behind the title Frank is actually the literal definition which happens to be honest & blunt.   True and to the point easily describes the new release 'Here Together' as you will experience for yourself.  
The group is made up of four musicians: Scott Porter on lead vocals & guitar, Billy Ziff on bass, Seth Glickman on keys and Christian Linsey on drums.   This new record is a complete reflection of what Frank is all about which is one tight-knit group of guys who make top-quality recordings.   The band chemistry can be heard almost instantaneously as soon as you hit play.  
The first track I encounter is called "Peace Out" and right away I'm getting a fun-spirited & lively feel coming across loud and clear.   As the album rolls along you realize that Frank has made very catchy songs that many can enjoy.   You get Rock mixed with some doses of Alternative and a bit of Pop appeal.   I was extremely impressed with the track "Home" where it's Unplugged with just acoustic guitar in hand and voice on tap.   Scott Porter gives an incredibly intimate performance here which leads into my next point that Scott has one distinct voice.   Porter seems to have that certain-something quality when it comes to singing and the listener will definitely pick up on this.   On the song "Cracks" you're hearing one coolio vibe where Frank is just workin' the hell out of it.   I'm simply lovin' the flavor on this installment and honestly this was one of the best overall performances, as a band, on 'Here Together'.   The album ends on a powerful yet emotional note with "Another Song Another Night" where it's all getting stripped down right to the core with some very poetic lyrics poured out.
In the end I have to say that Frank came to play and they did a fantastic job.   The way that this NYC band was able to switch up from slower tempo numbers to a more quicker pace was done up very well.   The transition from one song to the next seemed to be a perfect fit as if all the puzzle pieces were   connected from start to finish.   I can tell the hard work & dedication that went into making this project and I would like to say that the end result is a success!   Through all the good times & bad times during the group's 10-year run, Frank proves once and for all that they are very much 'Here Together'.  
By Jimmy Rae (jrae@skopemag.com)
[Rating: 4.5/5]