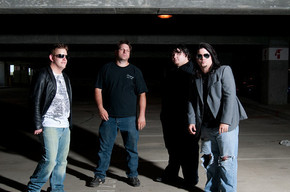 As four guys dressed in various levels of rocker attire, from the most basic jeans and T's to the full-on lead guitarist rockstar wardrobe, walk into the studio they exchange the same familiar barbs and ribbing that they have for the last 5 years.
Buy Album: http://www.cdbaby.com/Artist/MODENA2
The jokes about each other's style, equipment preferences, and state of facial hair upkeep are old. What is new is the status of signed band they acquired last year when signing with independent label Filament Records; their first professional music video for Second Time Around; and the songs they are currently to laying down with producer Jamie King.
[youtube jCQqIlcZ07w nolink]
There is a nervous excitement about this event, the untested songs, and the band's first experience with King, after dropping the 2010 Second Time Around demo produced by the revered Jim Wirt (Incubus, Hoobastank, Jack's Mannequin, Live).
The band said the decision to go with King had a lot to do with the quality of music he is becoming known for regionally, the work he has done with their label mates Irvine, and with the ability to work around schedules by going with a local producer to complete the album.