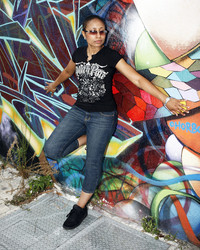 Miami's artist Leeza Monay bring us her fresh, energetic and catchy music.
Every track has the necessary to get you off your sit and makes you dance all over. Recalling today's industry pop music sound and with lyrics that more encourage listeners to have fun, like in songs such as "We Rockin", "Eat My Pancakes", "Party At The Grocery Stores" and such. In short, every music will get your feets move with the rythm, fill parties with excellent music background.
In conclusion, she knows how to rap and follow well the music, as mentioned above, it will certainly get your body shaking, etc. So if that's what you are looking for to fill your playlist with, head now to www.reverbnation.com/leezamonay and trust me you would not regret. However, for serious music people, well, this might not be your thing.
RJ Frometa- rjfrometa@hotmail.com
[Rating: 3.5/5]