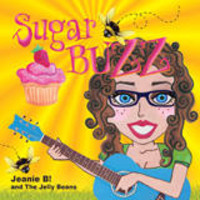 Jeanie B! was meant to make children's albums…period…end of conversation!   Jeanie is a Chicago-based singer/songwriter but is also a preschool music teacher.   A busy woman for sure, Jeanie B! and her group The Jelly Beans have a major 'Sugar Buzz' going on.   Jeanie is on lead vocals & acoustic/electric guitar with Jamie Martinez on vocals & upright/electric bass, Paul Bivans on drums and Airan Wright on sax/woodwinds.  
Four factors really stand out here on 'Sugar Buzz' and they are:
1)  Jeanie's excellent singing voice
2)  Vast amount of musical styles being used
3)  Not cheesy kiddie tunes by any means
4)  Fine musicianship displayed
Jeanie B! And these jumping Jelly Beans make music that is both educational & fun for the whole family.   The songs are catchy, relevant and performed extremely well by Jeanie B! and The Jelly Beans.   You'll hear elements of rock, pop, country, folk, blues, bluegrass and even jazz as the band covers it all!   On the opening track "When You Open a Book" you're hearing a light 'n' breezy sound that is definitely in the kids bop/rock category.   Next you'll be given "Five Reasons To Ride My Bike" and then you will get down on "Dance Party Every Night".   The title track "Sugar Buzz" you will actually experience the build up as the "Sugar Buzz" starts slow, then goes into rock out mode and finally crash!   I have to applaud Jeanie B! & company on "The Best Me I Can Be" because it's a very inspiring song.   For all the Charlie Brown fans out there you have "Hey Great Pumpkin" and then a very appropriate tune about bullies called "How Would It Make You Feel".   Time to get all chipper & happy on the calming refreshment "Tea Time" and then get ready for a light-hearted, sensitive approach on the matter of "movin' on to the next grade" on "Growin' Up".   An absolutely perfect ending to the album as Jeanie B! And The Jelly Beans wind things down with "Tired Town".   This number had such a terrific melody that was so appealing and there's only one thing left to say here and that is to all a goodnight.
Jeanie's connection to children is amazing as she and The Jelly Beans seem to have just the right amount of sweets.   I'd like to add that the soothing saxophone was an absolute pleasure to hear especially as a former alto sax player myself.   And can't say enough about Jeanie B!'s great-sounding voice that brought a nice harmony & pitch to the overall picture.   Also, I was very impressed with the kids singing background vocals on "The Best Me I Can Be" and "Hey Great Pumpkin"–great job guys!   Now, who's ready for a 'Sugar Buzz'?
By Jimmy Rae (jrae@skopemag.com)
[Rating: 5/5]