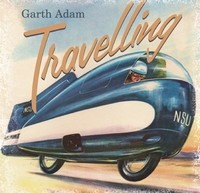 This UK born singer/songwriter spent his childhood in Africa and Fiji then eventually settled in Australia. This is where he honed his musical talents playing bass for numerous bands. He eventually stayed focused on his solo career and now with his seventh release a 3 track EP called, Traveling, it certainly is a pleasant display of a musical vacation.  
These songs take you on a road less traveled. To a place of curiosity and amazement. There is a good mixture of tempos with driving beats and melodic lyrics that sing you to different places. Each destination broadens your horizons and allows you to put your own story in his scenarios.
His story telling is picturesque in detail. He definitely has a good understanding about what makes a song soar. They are structured with a good balance of knowing when to break the rules to make the story fly. Melodically there is a perfect camaraderie with the music and the lyrics. He obviously has a good sense of prosody. Vocally his voice is as calming as the music itself.
I think Garth Adam is a force of nature. The secret to his sound is he owns it. The CD is only 3 songs which is the only disappointing thing about this project. I would love for him to extend this traveling experience. I want to go further distances with Garth. This is a good start to a music career with longevity. They say a journey is not the beginning or the end but the ride in between. The CD, Traveling is an excellent pass time.
Rebecca Hosking – hoskingrebecca@gmail.com
[Rating: 4/5]