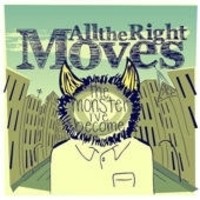 Get ready for All The Right Moves hailing from the Twin Cities as they strategically take one step at a time toward bigger & better things.   The Minnesota band has just released a 6-track EP called 'The Monster I've Become' that offers plenty of energy, catchy songs and worthwhile lyrics.   The group is made up of five members: Brandon Daly on vocals, keys & guitar, Braden Ashworth on vocals & guitars, Roman Wolfe on violin, Adam Sisler on bass and Dustin Phillips on drums.   Trying to make all the correct maneuvers while turning into this non-threatening & positive "Monster" is what it's all about, so let's get into this!
This group's style is in the power pop 'n' rock realm with nicely executed vocal harmonies in place.   The violin really adds a unique touch to the overall sound so I would say that was a perfect choice.   Right from the start on "Point of View", which features singer Ryan Wickard from the group Take Cover, you're getting fast & punchy playing.   As the EP plays along you realize that All The Right Moves has come up with songs that can easily get stuck in your head.   You're hearing radio-friendly tunes all the way that matches up well with Today's so-called 'Popular' music.
I do have to say that lyrically, vocally and instrumentally All The Right Moves are on point.   Also, I'd like to add that many people have tagged this band as having a Punk influence but sorry to say I'm not getting that at all.   They're a rock'em/sock'em group with Pop hooks that will start to grow on you. Songs off of 'The Monster I've Become' are already getting major attention by being played on shows such as:   MTV's "Real World: Las Vegas," "Cutthroat Challenge" and E!'s "Keeping Up With the Kardashians".   It's all about being smart in today's world so check out All The Right Moves to decide for yourself if they are heading in the right direction.
By Jimmy Rae (jrae@skopemag.com)
[Rating: 3/5]