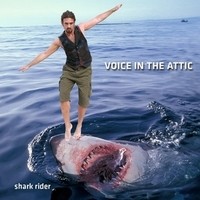 This one man band is ably backed by BC Bogey a German born multi-instrumentalist and former opera singer. The band, "Voice in the Attic" has a haunting sound that is screaming its way to your airwaves. The latest EP release, "Shark Rider" is getting attention in all the right places.
This four song EP is a sure win off the wall rocker. If your looking to get your rock on this is the place to go. Each track has a contagious beat with a quirky sound. BC has an interesting style belting out edgy lyrics that are complimented with his signature musical styling. He has a couple up tempo songs that do their part in waking you up and getting your attention. There are also a couple moody slow tunes that put you in a droning trance. This EP has something for every body.
The beauty of music is everyone has their own interpretations of what they think art should be. "Shark Rider", is a cool off beat head turner with Bogey's answer to rock n roll written all over it. This is a fresh new idea of what music should be with the potential of changing how we all celebrate life and living.
Voice in the Attic's name may have come from a schizophrenic character in a book who heard voices that weren't really there. But, BC's voice is here and needs an audience with an open mind and a desire to let their hair down.  
By: Rebecca Hosking – hoskingrebecca@gmail.com
[Rating: 3.5/5]