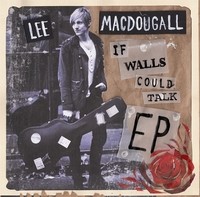 Lee MacDougall has quite a story to tell. Coming straight to us from Grimsby England, MacDougall knew he wanted to be a musician at a very early age. Growing up in a small historic fishing town he was not given a whole lot of opportunities to make it in this business. His story sounds like something out of a fairytale. But none the less here he is dues paid and oozing with a musical gift.
"If Walls Could Talk", is full of powerful compositions that absorb into your brain like a sponge. Each song is compelling in its own way. He is an amazing story teller. Lyrically he seems to have a natural gift of enlightening us to the enter workings of his brain.
Musically his guitar seems to speak to you as affectively as his words do. There is camaraderie between his instruments and his voice. They mesh with such intenseness there is no way to avoid the emotions it provokes.
The songs are all moderately up tempo feel good tunes. The two key tracks in my opinion are, "The Star Hotel" and "This is My Story". Both of them are paintings framed in music. I almost feel like I have known him my whole life. His music plays out in so much detail leaving nothing to the imagination. He touches on such universal emotions; you can easily slip your own story to fit.
I for one could not thank that little town in England enough for giving the world such an amazing artist. His musical talents have turned out to be a beautiful gift to his listeners. Lee MacDougall has a lot to be proud of. He has definitely gained a new fan in me. I look forward to seeing the impact he will make on the future of music.
Rebecca Hosking – hoskingrebecca@gmail.com
[Rating: 5/5]