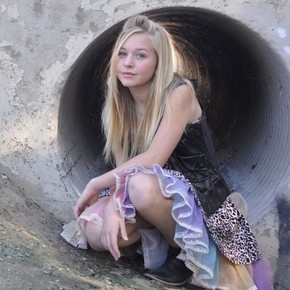 Justine Dorsey Justine Dorsey has recently been nominated by the 20th annual LA Music Awards for Singer/Songwriter of the Year; the youngest ever nominated in this category!Justine's voice and music has been likened to the styles of Lily Allen, Ingrid Michaelson, and Katy Perry, but with age-appropriate yet still edgy lyrics. Justine's recently completed debut album, Colorwheel, is an eclectic mix of retro pop songs along with more soulful tunes written from the heart. Her unique, jazz-inflected delivery conveys a certain wisdom beyond her 14 years and people are taking notice. Already a seasoned singer/performer/songwriter/actress, Justine is ready to take the world by storm.
[youtube gdc3U2r8nqU nolink]
Though Justine Dorsey has had great success as an actress, her true love is music, both writing and performing live. She discovered her voice early when she auditioned for "Annie" at the age of 5 and steadily worked on developing her singing talent throughout the years by performing in live theatre (as Kirsten, Felicity, Nelly, and Kit in The American Girl Revue at the Los Angeles Grove, The Sound Of Music at the Hollywood Bowl). Now a teenager, Justine is performing her own music, weekly, around Southern California.
For those of you who feel Justine looks a bit familiar, you may have seen her in her recurring role as Rob Lowe's daughter, Sophia McCallister, on the hit TV Series Brothers & Sisters.