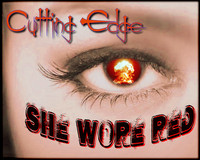 Just like that the group Cutting Edge is back with a fresh, new song titled "She Wore Red".   One week ago, for the first time ever, I did a Review + on their track "Your Love Is My Oxygen" (http://skopemag.com/2011/10/03/cutting-edge-your-love-is-my-oxygen ) that included six remixes and two more just released!   Not wasting any time at all, Cutting Edge comes with "She Wore Red" that is nothing at all like "Your Love Is My Oxygen".   Staying in the realm of extreme eclecticism, Cutting Edge decides to change up directions completely by going from an R&B/Dance-club feel to an all-out rock atmosphere.   This band is all about breaking the mold constantly and that is what I love about Cutting Edge!
"She Wore Red" MP3: SKOPE IT HERE!
There is the album version that runs over six minutes long and a radio edit that is cut down to about four minutes.   You have David Pesnell & William Zimmerman handling the arrangements again but this time a new singer is added to the mix.   You have Ryan Smith on vocals as he also wrote the song "She Wore Red" and Jeff Carolus back on guitar.   This particular track is the only Cutting Edge song not written by the late Liza Pesnell & William Zimmerman.   Three elements really stood out to me when listening and they are: distinct vocals & lyrics and phenomenal guitar playing.   Hat's off to Jeff Carolus on this one because he laid down some rock-nasty riffs that I thoroughly enjoyed.   Ryan Smith really impressed me because he made "She Wore Red" sound appealing while also incorporating powerful messages.   I'd also like to add that the arrangements were designed perfectly for this song.  
You definitely get a somber tone on "She Wore Red" and for good reason!   As I was listening, I picked up on major symbolism going on here in association with the words "Red" and "She".   The color red was compared to black in the sense of "black like my soul" and "black like the darkest of night".   Then you experience major play on the actual word red where Ryan sings "Red is the color of pain in such pain we inflict when we do not agree".   Or how about this: "Red is the color of hate.   Will it be our fate to destroy all we got?"   WOW!!!   Some heavy stuff happening here and you really have to soak it all in.   And we then hear lines like: "She wore red like the wars being fought…like the reddest revenge…"   Come to find out "She" depicts our enemy and "Red" represents the image of everything wrong with our world.   At least that is what I took out of it after fully-listening to "She Wore Red" several times.   The negative connotations mentioned here suggest that we better wake up and change our ways before it's too late.   One would think by the description of this song that it is very dark, gloomy and maybe even goth but not so fast because remember this is Cutting Edge we're talking about!   This band was able to turn "She Wore Red" into a solid, Top 40-type rock song thanks in big part the beat, the voice and Jeff Carolus going to town on guitar.   So you have a rock number that doesn't just stand out because of its catchy sound but also because it's got heart, meaning and hard-core substance.  
Dave Pesnell had this to say: According to the report, our new single "She Wore Red" received the following airplay during the week of Monday Sept. 19 to Sunday Sept 25, 2011.   And this song was released to commercial rock stations only last week so this is radio airplay that is not really being promoted except through internet.
United States: 818
Australia: 29
Philippines: 52
Canada: 52
Japan: 21
You can buy "She Wore Red" and other tracks at: http://101distribution.com/music/goesbacktocollege
and you can listen at: http://soundcloud.com/cutting-edge-1.   You can also check out "She Wore Red" and others at "Wendy's Listener Lounge" (http://www.wendyslistenerlounge.com/new2/artists/i/338686).  
This Cutting Edge is just so damn good, creative & original and I feel extremely lucky to have the opportunity to work with them.   This band is doing amazing things in music and I am definitely all aboard the Cutting Edge train that is chugging along at an incredible rate.   With fans already in place and Cutting Edge getting major radio play all over the world, this group is about to BLOW up on the scene BIG TIME!   I wanted to leave you with some words of funny wisdom by the incomparable David Pesnell: "The White House has not issued any statements regarding the song "She Wore Red" at this time–LOL."
By Jimmy Rae + (jrae@skopemag.com)
[Rating: 5/5]