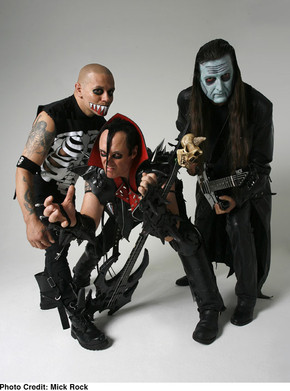 Today punk rock legends the Misfits release The Devil's Rain, the band's first album in nearly a decade!   It was produced by Ed Stasium, who's credits include the Ramones' Road to Ruin and Too Tough to Die, as well as the Misfits' 1999 release Famous Monsters.   Celebrating the occasion, they've release a free mp3 for one of the album's tracks, "Twilight of the Dead."
Free MP3 of "Twilight of the Dead":
The Devil's Rain packaging is designed to emulate a CD sized gatefold LP, featuring some incredible new Misfits portraits shot by the iconic Mick Rock.   It also showcases a jaw-dropping, two-panel front/back cover painting featuring the rebirth of the band's iconic "Fiend" mascot in an epic setting rendered by Arthur Suydam (known for his immensely popular work on the Marvel Zombies series, among others).