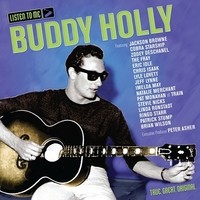 This is a 75th birthday tribute to one of rock's original innovators, Charles Hardin Holley.   Buddy Holly was instrumental in taking music that at the time was basically Rockabilly, and bringing it to a new level and genre, simply called Rock.   Buddy introduced the acceptance of innovations like focus on the electric and bass guitars, strings and celeste on a rock song, and the trademark "Hiccup" vocals.   His tragic death in a plane crash in 1959 He also influenced countless performers, many who covered his tunes like The Beatles, John Lennon, The Stones, Peter & Gordon (Peter Asher is the executive producer of this release), Linda Ronstadt, James Taylor, John Denver, and The Rogues.   Guest artists include Jackson Browne, Linda Ronstadt, Ringo, Brian Wilson, and Stevie Nicks.   In addition to his musical legacy, he has been immortalized in a movie, a song named for him by Weezer, and of course in Don McLean's song American Pie.  
There are 16 cuts on this release, which includes a very strange narrative arrangement on Raining In My Heart by Monty Python actor/comedian Eric Idle.   One of my favorite Holly songs, Everyday is competently covered by Fall Out Boy frontman Patrick Stump.   The lesser-known song Take Your Time covered by The Fray, is my favorite cut on this release.   Jeff Lynne's cover of Words Of Love gets the 60's British treatment, reminiscent of the Beatles prior version.  
This release does a good job of getting to the heart and soul of Buddy's music.   I'm still confused about the Eric Idle, whatever it is.   Do they still let him out of confinement with a weekend pass?  
By: RME
[Rating: 3/5]