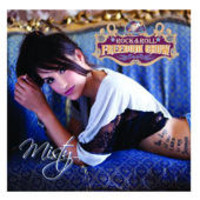 What can I say about Misty Gonzales other than she ROCKS!   Gonzales is the new authoritative voice for female rockers everywhere!   The LA-based musician brings to you one exciting debut album called 'Rock & Roll Freedom Show'.   Referred to as the "hippie rock queen" by Music Connection Magazine, Misty plays true to this role by stating that 'Rock & Roll Freedom Show' is all about her "journey of life, love and music thus far".  
The record was produced by Grammy nominee Warren Huart who has worked with the likes of: Aerosmith, The Fray, James Blunt and Daniel Powter.   And now Misty Gonzales is ready to make a name for herself with a Show that never quits!   What I really loved about Misty Gonzales and her new release was the fact that it's not just about the music but also about helping kids.   Misty fronts Freedom Child Entertainment alongside her partner Tom Wilson which serves as a promotional tool and a way to help improve the lives of underprivileged children.   "A portion of the proceeds from 'Rock & Roll Freedom Show' will help build a music program and quality of life program for Bethany Baptist Christian School, a children's school in Cayes Jacmel, Haiti that FCE supports."   Right there I'm already a fan of this person due to her conscious efforts to help make this world a better place through her music and actions.   So we know Misty Gonzales has got heart but how will that tie into the record?
Well folks I'm here to tell you that Gonzales passes with flying colors!   She's got soul (She's "Super Bad"!), she's got that true rock & roll spirit & attitude and she definitely sings from the heart.   Misty starts up the Show with a track titled "Go-Getter" where the rock 'n' roll fever is alive & well and Misty's energy level is sky high!   All I have to say is to rock it girl and go get it!   Up next you'll hear tough guitar riffs and raw vocals that makes for one winning combo on "Love Is War".   Gonzales proves that she has got a little soul in her repertoire on track four "I'm Coming Home" with one solid performance.   Then on song six "Hummingbird" Misty sounds a bit seductive by giving the audience a very low-key & intimate approach.   The peace and love mentality comes shining through on the closing number "Flowers" where Misty just wants to bring it on home and bring us all together.
I am majorly impressed with Misty Rock 'N' Roll Gonzales because she has a presence about her that demands respect & attention.   She has a vocal quality that really draws you in as a listener because when Misty the "hippie rock queen" sings I listen!   We now have a fresh, new voice & figure in the music world who is sure to make an impact.   I am a definite fan of this artist and I'd like to add that 'Rock & Roll Freedom Show' would be an excellent addition to any music collection.   Let the movement begin!
By Jimmy Rae (jrae@skopemag.com)
[Rating: 5/5]