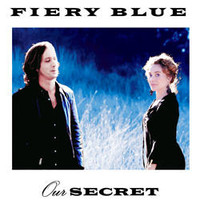 Fiery Blue isn't your average, ordinary band by any means because they have a very unorthodox process of working together.   The group is made up of three members: songwriter/guitarist Paul Marsteller, producer/multi-instrumentalist Gabe Rhodes and singer Simone Stevens.   Here's the real kicker though; they all live in different cities and Simone has met Gabe a few times & Paul once in person but Gabe & Paul have never met face to face!   The new album 'Our Secret' was made possible thanks to all of the technology and the Digital Age that we live in.   So now that the Secret's out on Fiery Blue prepare to be amazed!
I couldn't believe my ears when I hit play and it sounded like a live band jamming together in a studio but that wasn't the case!   Either my hearing is playing tricks with me, Fiery Blue has pulled a fast one or this trio is just that damn good!   I don't think you could have picked a better group of people to make this project work because the album was put together flawlessly.   With Gabe Rhodes being a Grammy winning producer & talented musician, Paul Marsteller being an excellent songwriter & guitarist and Simone Stevens' impeccable singing–you can't lose!  
The style is in the Country-Folk Americana realm and I have to say I thoroughly enjoyed all 13 tracks on 'Our Secret'.   You get a real gritty, raw & rootsy sound at times but then you would hear Simone deliver such an emotionally-drenched vocal performance that would leave you speechless.   Her distinct voice, powerful singing and potent lyrics keep you locked in throughout the whole record.   Then you throw in wonderful arrangements, top-notch musical accompaniments & stellar guitar parts and you get one incredible music mix.  
Besides having that obvious professional touch that makes this album sound so good, Fiery Blue has also made the songs fun, loose and radio-friendly which will appeal to the average listener.   From a musical, artistic, creative and marketing standpoint Fiery Blue is smart all-around!   'Our Secret' is an instant success and one enjoyable listening experience.   You will find yourself getting lost in the music from beginning to end.   I would recommend this album and band to anyone out there.   I still can't believe that Fiery Blue didn't record this record together as a band in a studio because it certainly sounds like it.   All I have left to say is that this is an amazing effort that is rewarding, satisfying and mind-boggling all at once.
By Jimmy Rae (jrae@skopemag.com)
[Rating: 5/5]