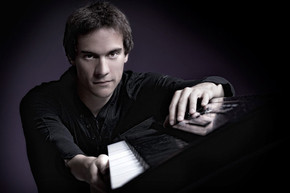 Another week of great music is upon us. This week I am very excited because we leave the comforts of New England and head to Strasbourg which is north of France. The beauty of music today is that it is truly global. Thanks to the Internet we can discover & enjoy new music from all over the world with ease. That is exactly what we are going to do today with my guest Sebastien Parentin. Sebastien does not have an album out yet but he has put out various singles that have gained him recognition in 2010 Artist Forum and Billboard. Join us this week as Sebastien talks about his musical education, his father's role in his music, and he even talks about "Ebb & Flow" which we offer the MP3 as well.
Stoli: Where are we talking from today and how is your summer in France going?
Sébastien Parentin: My current place is a small peaceful village in the northeast of France close to the European capital Strasbourg, which is also a border city with Germany. I'm in vacation now, desperately trying to get the most out of the unusually rainy and cold weather we have for several weeks! I actually work full-time as a software engineer in a graphic arts company the rest of the year to earn a living. My little free time is mostly devoted to songwriting. I like spending nights alone at home with my piano working on new songs, discovering new melodies, mixing sounds and atmospheres. This sometimes drives my neighbors crazy, but I do find there the best way to free my mind and forget my everyday troubles.
Stoli: You have been doing music since the age of 8. How much did your parents & family play in getting you interested in music?
Sébastien Parentin: Without my father I think I would be nothing (musically speaking). While I was just a baby, he was often rocking my ears with his soft voice and guitar playing around until I fell asleep. But curiously, it's maybe at the age of 2, the day when I escaped my parents' attention to "climb" and tap on this big cool black and white toy (actually my father's fresh new keyboard), that I unconsciously chose my future instrument… Who knows? Throughout my childhood until now, my father also worked as singer/songwriter with some great international class artists on different French pop albums. Unfortunately released with a non-deserved limited success, these records however allowed him to be recognized as probably the most talented songwriter… of his dreary street (!) Anyway, whatever the fame, I enjoyed sharing with him this musically intense time: listening to his new songs, watching him writing them, supporting him through his few concerts. Since this time then, I was dreaming of writing one day my own songs… By the way, if you want to know what daddy's French pop sounds like, you are welcome here: www.parentin.net.
Stoli: Did you go to school for music & how did you learn music theory & notation?
Sébastien Parentin: Yes, I joined a music school at the age of 8 to learn music theory & notation. One year later, I started to learn piano in the same school. I ended my course, mostly based on the study of classical music, at the age of 18. After that, I took an interest in jazz techniques and the art of improvisation through the interpretation of a few jazz standards during a couple of years… a nice break for me, and a way to broaden my horizons. Then, I decided to put my music course aside in order to focus on my pretty time-consuming software engineering studies. But, my passion for music caught me up again quite quickly, that's why I created an experimental rock band with three other mad friends. My first real songwriting experience, very fulfilling!
Stoli: You were in a band a few years ago. Why did you decide to go solo and are you pleased with that decision?
Sébastien Parentin: Actually, it wasn't really my decision. We had a good time together but we knew that it would be a relatively short experience for each of us. We were indeed engineer students and all of us had planned to find a job in this field to earn a living. So, the band obviously broke up and everyone followed is own path far away from each other. Certainly, I could have looked for another band in my new place, but the truth is I always wanted to write my own songs, and create my own musical universe. And, I must say that I enjoy working alone and controlling everything (vocals, instrument scores, beats, sound shaping, mixing…). Obviously, the counterpart is that it often takes me a very long time (several months) to make a song that more or less satisfies me, simply because I'm far from being an expert in all these fields! Moreover, I unfortunately don't have much free time outside my job… it's quite frustrating for me to sometimes take several weeks to write an instrument part. But, in some way, that's the price of freedom.
Stoli: You are an incredible songwriter. Have you ever thought about writing for other musicians as well?
Sébastien Parentin: Thank you very much! I'd love to write for other musicians and, why not, to make my passion a full-time job. But without any relationships in music industry it's not that simple! In the meantime, I settle for writing songs in my bedroom with my makeshift home studio… I already feel very happy to arouse your interest, as well as the one from a few songwriting contests judges and producers with my first materials… even if I got nothing concrete until now. Surely, my dearest wish would be to sign with a good producer. For me, it means someone understanding, sure about how the production will sound, and desirous to build a lasting relationship.
Sebastien Parentin "Ebb & Flow": http://www.skopemag.com/audio/Ebb%20&%20Flow.mp3
Stoli: I love your song "Ebb and Flow." What is that song about and when did you write it?
Sébastien Parentin: Thanks for the compliment. It's always encouraging and stimulating for me to have such a positive feedback! With this song, I had the honor to be selected as finalist in the last wellknown Billboard song contest a few months earlier (electro category). This song gave me some very nice surprises; I hope it will continue! I wrote it two years ago in late 2009. The song tells the story of an impossible love (another one) between a man in love with a beautiful girl, friend of him, but who ignores everything and does not show any sign of attachment. The words point out in a quite figurative way the different feelings that come with: hope, illusiondisillusion, frustration, and resignation. The story swings between man's dreams and the disappointing reality he painfully faces everyday. Funny isn't it?
Stoli: What is the ideal setting for you to write or record music?
Sébastien Parentin: Whatever the place, I feel generally more productive in a quiet soft lightning space, late in the evening until the dead of the night, with my piano as only companion. When these conditions are met, I'm likely to more easily convey into notes the various emotions that rise in me, sometimes when I think about fulfilling or disappointing relationships. Then, songwriting is definitively an outlet to free my mind. Unfortunately, I'm unable to know why some nights I feel inspired, and why the other nights nothing happens… mind mysteries… Technologically speaking, my hardware configuration for recording is very simple: Cubase/UAD powered laptop, Tascam US-144 sound card, and a Shure SM-58 mic, nothing more. For drums, bass, guitars, strings I rely on virtual instruments (Kontakt and EZ Drummer are my favorites). For sound shaping and mixing, I basically use the powerful plugins from Universal Audio.
Stoli: If I was to visit you in France where could we go to hear local & live music?
Sébastien Parentin: In Strasbourg, there are a lot of music festivals and concerts during summer in the city center. There, if you're lucky, you can listen to some interesting local artists playing live their own songs. French people are open to most styles of music: jazz bands, Latin music, indie French rock and metal groups, electro DJs… Outside Strasbourg, we have of course many more possibilities.
Stoli: Who are 1-2 other musicians that you listen to that are not mainstream but very talented?
Sébastien Parentin: Thanks for asking. I'm happy to have the opportunity to talk about the following two very talented artists I love to listen to. – The first one is Goodnight Argent. Goodnight argent is a US alternative pop band from Pasco, WA. The members are Chase Thompson and Tyler McMullen. I discovered this band very recently thanks to Skope. They were indeed selected like me among the June 2011 "Artists to watch". I particularly love their single Vagabond… I don't know how many times I've listened it to. In my opinion, this song has everything to become a future hit: a great hook, beautiful melody, powerful and very professional arrangements, and the vocals… brilliant! I like the variations after the bridge, very well executed! I also heard that they wan several songwriting contests with another single Battlegrounds. Once more thanks Skope for making me discover this talented duo. You can find more info on their website: http://www.goodnightargent.com/ – The second one is Dominika Titková. She is a young singer and saxophonist from Slovakia. She has played in several jazz and Latin bands. Among others, she is currently member of a bossa trio performing live in the region of Nitra and Bratislava. Last year, I had the pleasure to mix some covers with her voice: Don't Know Why (Norah Jones), Chega de Saudade (Antonio Carlos Jobin)… and, I was amazed (and still am) by her performance. There is something unique with her voice I could not exactly define, inspiring to the listener a great emotion, as rarely a singer is able to do it, I think. About the voice: soft, sensitive, warm, but also bright and powerful are words that come straight in mind… You can follow her online on the band new website: http://www.bossatrio.tym.sk, also on Facebook: http://www.facebook.com/pages/Bossa-Trio-Dominika-Titkov%C3%A1/202572389758816. Unfortunately for the moment no audio sample is available, but you can listen to some of her cover songs from another project here: http://jamstonetrio.com/fr/musique.php (Especially song 02 and 13, but also 01, 07, and 11). I wish her a brilliant future rich of success with maybe, I hope, the help of a producer touched by her talent. She deserves it!
Stoli: You obviously love music but what other hobbies or interests do you have?
Sébastien Parentin: I do like sport. Music is an all time-consuming passion, but when I don't feel like writing, or playing, I usually go out running or rollerblading for hours just to take my mind off things. With my friends, I also like playing tennis, basketball. Otherwise, nothing very original: cinema (blockbusters as well as fringe movies, French comedies), books (especially H.P. Lovecraft, thrillers, but also French poetry), TV series (I enjoy watching Dexter, House…). I would like to travel more, but as long as I have exciting musical ideas going through my mind, I prefer to devote my free time to songwriting. Moreover, the positive feedback I currently have on my work rather encourages me in this way. That's maybe a mistake, I don't know. But, sure that moving out from my good old country to meet some other cultures and ways of life is something I will do more often in the future.
Stoli: What is coming up for you & where can we follow you online?
Sébastien Parentin: Finding a producer would be a good project plan for 2011! In the meanwhile, I will keep on recording and arranging the songs I have in mind (as usual) until having enough materials to make an album. I'm currently peacefully working on my "not yet titled" new song. This time, I am looking for something more intimist, slower, and melancholic, with very few instruments uplifting the whispering vocals. Later, I plan to go back to louder electro songs (precisely a bit like Ebb and Flow) with, I hope, some kinds of catchy chorus and lively beats. I also still rely on sonicbids to get some little promotion through different songwriting contests and other exciting gigs (like yours!).
I've recently created a Facebook page. You can follow me there:
http://www.facebook.com/pages/Sebastien-Parentin/167448216644263
Or, if you're not on Facebook:
http://www.reverbnation.com/sebastienparentin
http://www.sonicbids.com/SebastienParentin